Slide units provide precision linear motion.
Press Release Summary: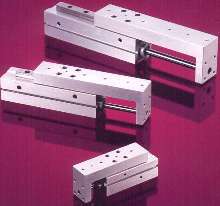 Series SIP Rail Bearing slide units are available in three bore sizes (12, 16, and 20 mm) with choice of three travel lengths. Internal shock pads reduce noise and end-of-travel impact forces. Mounting holes provide maximum application flexibility and recessed switch slots allow mounting of PHD's reed and solid state switches. Optional 5 mm of travel adjustment is available on extend and/or retract.
---
Original Press Release:

Series SIP Rail Bearing Slides Provide Compact, Precise Linear Motion


PHD announces the release of its NEW Series SIP Slide product family. The Series SIP Slide features rail bearing technology to provide smooth, precise linear motion. The unit's compact design accommodates applications within confined spaces.

Units are available in three bore sizes (12, 16, and 20 mm) with a choice of three travel lengths each to fit a wide range of applications. Standard internal shock pads eliminate metal to metal contact reducing noise and end-of-travel impact forces.

Mounting holes are conveniently located on the end and bottom of the slide body to provide maximum application flexibility. Series SIP Slides also feature recessed switch slots for easy mounting of PHD's Reed and solid state switches. Optional 5 mm of travel adjustment is available on extend and/or retract.

For more information, send for a free catalog today. For immediate assistance, call PHD, Inc. at 1-800-624-8511 or visit our web site at www.phdinc.com

PHD, Inc., P.O. Box 9070, Fort Wayne, IN 46899
(260) 747-6151; FAX (260) 747-6754
phdinc.corn
phdinfo@phdinc.com

For information about this release, contact:
Tracy Fetters, Marketing Communications Coordinator
PHD, Inc. o P.O. Box 9070 o Fort Wayne, IN 46899
Telephone (260) 747-6151

Related