Sleeves eliminate need to rework worn and damaged shafts.
Press Release Summary: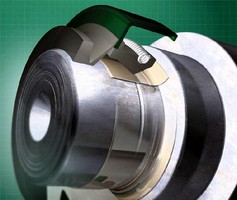 Offering corrosion resistance, stainless steel Speedi-Sleeves® exhibit surface roughness of 0.25-0.51 mm. Units mount by pressing them over damaged shaft surface and do not require power tools or heating. Shafts up to 8.000 in. dia can be equipped with standard models, while shafts with diameters up to 45.000 in. can use LDSLV chrome-plated, carbon steel sleeves. Speedi-Sleeve Gold version features coating that minimizes rate of abrasive wear in contaminated conditions.
---
Original Press Release:

SKF® 'Speedi-Sleeve' Eliminates Need To Rework Worn And Damaged Shafts



SKF® "Speedi-Sleeve" offers a cost-effective sealing solution when machine shaft surfaces have been damaged or worn in operation. Simple replacement of the original radial seals over a worn surface cannot provide effective sealing performance. These wear sleeves eliminate the typical need to replace or rework shafts whose surfaces have been compromised by abrasion due to environmental contaminants, high pressures, speeds, or inadequate lubrication.

Speedi-Sleeves® quickly mount by pressing them over the damaged shaft surface. Power tools or heating is not required. Shafts can be up-and-running within minutes at a fraction of the cost of traditional reworking. Each Speedi-Sleeve fits a specific shaft range and their extremely thin walls (0.28mm/.011 in.) allow users to retain the original seal size, reducing inventory complexity.

Speedi-Sleeves are made from stainless steel for corrosion resistance and exhibit a surface roughness between 0.25 mm to 0.51 mm (10-20 min.). They often can deliver a higher quality counterface for the seal lip than encountered with the original shaft. Selected sleeve sizes also are available as Speedi-Sleeve Gold. This version features a special coating, which reduces the rate of abrasive wear in demanding, contaminated operating conditions.

Shafts with diameters up to 203.20mm (8.000 in.) can be equipped with standard Speedi-Sleeves and, for larger shafts (diameters up to 1143.00mm or 45.000 in.), the heavy wall type "LDSLV" chrome-plated, carbon steel wear sleeves can be specified. Other diameters can be quoted on request.

All Speedi-Sleeves feature a removable installation flange for easy mounting using a tool supplied with each sleeve. The flange can be retained or can be removed, if necessary, for clearance purposes (a pre-cut tear groove is provided).

Contact SKF USA Inc., 1510 Gehman Road, Kulpsville, PA 19443. Phone: 800-440-4SKF (toll-free). E-mail: skfusainfo@skf.com Web site: www.skfusa.com

(SKF® and Speedi-Sleeve® are registered trademarks and Speedi-Sleeve Gold is a trademark of SKF Group.)


More from Computer Hardware & Peripherals