Sleek Design and High Outputs for Sheet Extrusion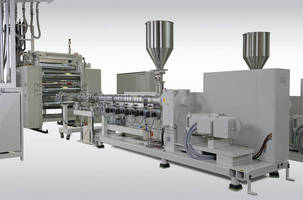 At NPE 2012, battenfeld-cincinnati USA (formerly American Maplan Corporation) will introduce its machine solutions for the extrusion of high quality sheet for packaging solutions in West Hall A, booth number 911. In addition, the company will also introduce its new Multi-Touch roll stack which provides excellent results in production, particularly for PP sheet.

Increasing cost of energy and resources and less available space have shaped technology developments and with strong competition in place, customers are increasingly asking for more efficient equipment while at the same time placing higher quality requirements on end products.

For these applications, battenfeld-cincinnati introduced its 75 mm (3") single screw extruder series in 2005 which has already proven itself in the field with more than 150 lines installed worldwide. The extruders offer energy savings of up to 30%, shorter start-up and reversal times while at the same time requiring less space and being easy to handle. Due to short residence times, higher material melt quality can be realized.

Output ranges from 400-2,000 kg/h depending on material and application. Higher outputs can be reached by adapting motor power and screw speeds. In North America, most extruders are in the middle output range and used for direct feeding of thermo-forming machines. Common materials processed are PP, PS and A-PET, but the battenfeld-cincinnati extruder series can also be used for ABS, PLA and other polymers.

Due to the compact design, battenfeld-cincinnati's extruder series are excellently suited for multi-layer sheet applications where floor space is a special concern. With the 75 mm single screw as the main extruder and the 45 mm co-extruder for the functional layers, battenfeld-cincinnati's lines enable a sleek, space-saving system for high-quality production.

battenfeld-cincinnati has also developed highly efficient roll stacks to complement their extruders. In the past two years, steel coating of the rolls could be reduced by half while retaining the line load and hardness. This reduction in thickness significantly enhances cooling behavior. At the same output, roll diameters can be reduced for easier handling.

The next step in sheet production: Multi-Touch

With the need for continuously higher outputs, conventional roll stacks are reaching the limits of their cooling capacity. The most common solution - widening the line - often leads to lower quality which takes up more space and makes handling equipment more difficult.

Following the extruder development principle "speed is everything", battenfeld-cincinnati will introduce the new Multi-Touch roll stack system at NPE. Here, the sheet passes through not only two, but rather a number of polishing nips. The first two rolls have a larger diameter for low deflection; the following rolls are smaller in order to enable the production of an even, stress-free sheet with quicker cooling side changes. The nip pressure between the rolls ensures that no air will be trapped between the rolls and the sheet, even at higher line speeds. This in turn leads to an optimal heat transmission and quick cooling for higher transparency and surface gloss, particularly in PP applications.

Due to its modular design, the Multi-Touch roll stack can be adapted to the expected throughput by adding more rolls. A conventional post-cooling unit is installed to ensure a low temperature for coiling. The first Multi-Touch roll stack has been in use in the field for a few months with excellent results.

To find out more, visit us at NPE: West Hall A, booth 911

www.battenfeld-cincinnati.com/maplan

battenfeld-cincinnati USA is a member of the battenfeld-cincinnati group of companies, a market leader in the extrusion industry. The battenfeld-cincinnati group, with headquarters in Austria and Germany employs about 750 people worldwide at five production loca-tions. With three product-oriented divisions (Infrastructure, Construction, Packaging) and its extensive network of representative offices, sales and service battenfeld-cincinnati provides leading solutions for pipe, profile, sheet and film extrusion.

More from Machinery & Machining Tools