SLC NAND Flash Memory (24 nm) targets industrial applications.
Press Release Summary: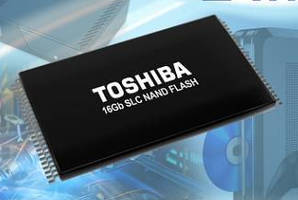 Based on 4 x 4 Gb die and supplied in 48-pin TSOP, 16 Gb BENAND™ is optimized for effective write endurance (using 8-bit BCH ECC) as well as read/write performance. ECC is not required from host controller, and this enables use with host controllers that do not have 8-bit ECC capability. Delivering long-term process support, product operates from 2.7–3.3 V supply over -40 to +85°C range and is suited for commercial and industrial applications.
---
Original Press Release:
Toshiba Expands 24nm SLC NAND Flash Lineup to Address Industrial Applications
16Gb BENAND Offers Built-In ECC, High Performance, Write Endurance, Long-Term Process Support

IRVINE, Calif. -- Toshiba America Electronic Components, Inc. (TAEC) has expanded its family of 24nm single-level cell (SLC) NAND flash memory solutions. The new 16 gigabit (Gb) BENAND™ is housed in an industry-standard 48-pin TSOP package, and offers a combination of high read/write performance, effective write endurance (using 8-bit BCH error correction code), and extended temperature operation. This makes it suitable for a wide variety of commercial and industrial applications.

The new addition rounds out Toshiba's broad SLC product lineup, allowing designers to take advantage of the price/performance of advanced 24nm NAND flash SLC technology at densities from 1Gb to 128Gb. Based on a 4x4Gb die, 16Gb BENAND operates from a power supply of 2.7V to 3.3V with a temperature range of -40°C to 85°C. Many industrial applications have a long life expectancy. Toshiba designed BENAND with this in mind. With the ability to replace older generations of discrete SLC NAND, BENAND extends the product life of everything from telecom applications and LCD TVs to robots and printers – while also potentially reducing BOM costs.

According to Brian Kumagai, director of business development for TAEC, "SLC NAND is still very much an integral part of the overall NAND market, and leading-edge 24nm devices play a key role in enabling replacement of the older NAND devices that are still being used today."

Toshiba's 24nm BENAND requires no ECC from the host controller. This enables it to be used with host controllers that do not have 8-bit ECC capability.  Many legacy designs still use older processors that do not have 8-bit ECC capability, making BENAND a viable option for companies looking to design in a cutting-edge NAND solution with existing hardware. To ensure easy migration, BENAND's features such as page/block size, spare area size, commands, interface and package remain the same as legacy 4xnm SLC NAND.

Toshiba's continuing commitment to supporting 24nm SLC NAND flash provides industrial designers with the confidence of knowing that they have chosen the correct technology for their applications requiring production longevity. This support eliminates concerns about redesigning to a newer generation.

For more information on Toshiba's flash memory solutions, please visit toshiba.com/technologymoves, read the TAEC Memory Blog and follow the company on Facebook and Twitter.

BENAND™ is a trademark of Toshiba Corporation

Product density is identified based on the density of memory chip(s) within the Product, not the amount of memory capacity available for data storage by the end user. Consumer-usable capacity will be less due to overhead data areas, formatting, bad blocks, and other constraints, and may also vary based on the host device and application. For details, please refer to applicable product specifications.

*About TAEC
Through proven commitment, lasting relationships and advanced, reliable electronic components, Toshiba enables its customers to create market-leading designs. Toshiba is the heartbeat within product breakthroughs from OEMs, ODMs, CMs, VARs, distributors and fabless chip companies worldwide.  A committed electronic components leader, Toshiba designs and manufactures high-quality flash memory-based storage solutions, solid state drives (SSDs), hard disk drives (HDDs), solid state hybrid drives (SSHDs), discrete devices, custom SoCs/ASICs, imaging products, microcontrollers, wireless components, mobile peripheral devices, advanced materials and medical tubes that make possible today's leading smartphones, tablets, cameras, medical devices, automotive electronics, industrial applications, enterprise solutions and more.

Toshiba America Electronic Components, Inc. is an independent operating company owned by Toshiba America, Inc., a subsidiary of Toshiba Corporation, Japan's largest semiconductor, solid state drive and hard disk drive manufacturer and the world's seventh largest semiconductor manufacturer (Gartner, 2015 Worldwide Semiconductor Revenue, January, 2016). Founded in Tokyo in 1875, Toshiba is at the heart of a global network of over 550 consolidated companies employing over 188,000 people worldwide (as of March 31, 2016). Visit Toshiba's web site at http://toshiba.semicon-storage.com.

Information in this press release, including product pricing and specifications, content of services and contact information, is current and believed to be accurate on the date of the announcement, but is subject to change without prior notice. Technical and application information contained here is subject to the most recent applicable Toshiba product specifications.

MEDIA CONTACT:
Dena Jacobson
Lages & Associates
Tel.: (949) 453-8080
dena@lages.com

CONTACT: Rebecca Bueno, Toshiba America Electronic Components, Inc., Tel.: (949) 462-7885, rebecca.bueno@taec.toshiba.com
More from Machinery & Machining Tools