Cleaning Compounds and Chemicals
Slat Cleaner removes slag from laser cutting machines.
Press Release Summary: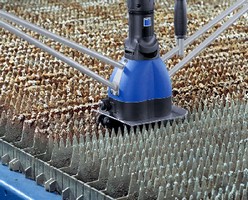 Designed for use on flatbed laser machines with pallet changers from any manufacturer, TSC 2 can support slats from 0.08-0.15 in. thick. With automatic forward feed, unit cleans slag up to 0.6 in. thick off steel, stainless steel, and copper support slats, operating at speed of 26-32 fpm. Slats do not have to be removed for cleaning, and on flatbed laser cutting machines with pallet changer, cleaning can take place while production is running.
---
Original Press Release:
TRUMPF Introduces TSC 2 Slat Cleaner
Conn., May 8, 2008 - TRUMPF has introduced the TSC 2 slat cleaner, which quickly and easily removes slag from the slats of laser cutting machines. The TSC 2 is the successor to the popular TSC 1 slat cleaner which was introduced in 2006 and can be used on flatbed laser machines with pallet changers from any manufacturer. "After two years of experience and very positive feedback from the market we analyzed and evaluated different technical aspects of the TSC 1 that we could further improve upon. The result of those improvements is the TSC 2, a must have for fabricators that do a lot of laser cutting work", says Tony Mirisola, product manager of power tools for TRUMPF. At first glance, three differences in the new machine can be recognized immediately - the new capacity plate, brush set and vent holes. The steel brush set replaces the stripper plate used on the TSC 1 resulting in longer tool life. In addition, the tooling and pinion shaft have been completely revised. The new teeth from the rollers to gear combined with vent holes for roller lubrication help to extend tool life. Additionally, the pinion shaft is now made from one part and the pin connection for torque transmission has been eliminated. The clutch has been reinforced with a bearing disc which results in better clutch guidance due to a bigger bearing dimension. The quiet TSC 2 slat cleaner can be used on support slats from 0.08 inches to 0.15 inches thick. With its automatic forward feed, it quickly and easily cleans slag up to 0.6 inches thick off steel, stainless steel and copper support slats operating at a speed of 26 to 32 feet per minute. Slats do not have to be removed for cleaning and on flatbed laser cutting machines with a pallet changer, cleaning can take place while production is running. "The ability to clean a standard sized pallet approximately 5-by-10 feet in size in as little as 20 minutes results in significant savings for fabricators. The slat cleaner pays for itself quickly because the tool costs about 75 percent less than replacing the slats of one pallet. And when compared with manual cleaning, manufacturers can save about two-thirds of the cost per cleaning procedure, on average. This all adds up to greater efficiency and productivity", adds Mirisola. For further information, please visit www.trumpf-powertools.com. TRUMPF is one of the world's largest producers of fabricating machinery and a world market leader in lasers used for industrial production technology. Additional company information is available at: www.us.trumpf.com
More from Electrical Equipment & Systems