Slant Bed Lathes handle small to medium lot sizes.
Press Release Summary: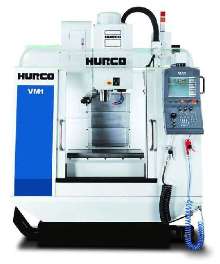 Model TM6 features 6 in. chuck, 12-station tool turret with travels of 7 x 10 in., and 15 hp spindle motor with speeds to 6,000 rpm. Model VMX24S offers X-Y-Z extended travels of 24 x 20 x 24 in. UltiMax® control allows machinist to setup and program on shop floor, create programs, and download CAM generated programs. VM Series machining centers features cast iron frames, fully-enclosed tool storage, 16-station swing arm ATC, and digital motors and drives.
---
Original Press Release:

Hurco to Preview a New Addition to Product Line at EASTEC® 2004


Indianapolis-April 9, 2004...Hurco Companies, Inc. is excited to preview its new TM6, the first in a new line of slant bed lathes at the Eastec 2004 Advanced Productivity Exposition. Hurco's VMX and VM Series machining center product lines will also be featured. The show will be hosted at the Eastern States Exposition Grounds, Springfield, Massachusetts on May 25-27, 2004. The TM6 slant bed lathe will be previewed by Hurco's distributor sales representative, Brooks Associates, Inc., who will also demonstrate Hurco's new VMX and VM Series machines in booth number 1230.

Hurco's new lathe product line is aimed at job shops and contract manufacturers in which efficient processing of small to medium lot sizes is critical to profitable operations. The heart of the new lathes is the innovative UltiMax® control, which allows the machinist to quickly and easily setup and program on the shop floor, create programs with Hurco's knowledge-based programming software and download CAM generated programs. The TM6 standard features include a 6″ chuck, 12 station tool turret with travels of 7″ x 10″ and a 15 hp spindle motor with speeds up to 6,000-RPM. It can be supplemented with options such as chip conveyors, tool probe, part catchers, and bar feeders. There are three models of the TM Slant bed Lathe Series, 6″, 8″ and 10″ chuck size, capable of handling the full range of 2-axis lathe work.

Hurco's VMX and VM series machining centers in the Brooks Associates booth will have more than just high-speed spindles and precision machining centers on display. The demonstrations will show how the VMX and VM Series machines can help solve many of the challenges faced by today's machinists. A perfect example of this is the VMX24S, offering a high-speed variation of Hurco's most popular VMX machining center with a 15,000-RPM spindle. Designed to provide the best performance for tool, die, and mold work, this compact machine is an ideal platform for optional rotary tables if your applications require 4th-axis and 5th-axis capabilities. Its X-Y-Z extended travels of 24″ x 20″ x 24″ make this machine ideal for mold work with great metal removal rate characteristics. The VMX24S also features Adaptive Surface Finishing Software (ASF), which facilitates greater look ahead and controlled feed rates for excellent surface finishes.

In addition to its newest models, Hurco will demonstrate the capabilities of its "Best in Class" VM Series machining center, including the VM1 and VM2. The VM machines have the largest work cube with the smallest footprints in their class. Other features include cast iron frames, fully enclosed tool storage area, 16-station swing arm ATC, digital motors and drives, and the advanced technology of the Max® control. The VM product is perfect for primary or secondary operations at almost any shop. It really hits the mark for job shop versatility. The VM1 is a true 6,200-pound machining center, with a 15 HP, 8,000 RPM spindle and X-Y-Z travels of 26″ x 14″ x 18″. The VM2 has a powerful 20 HP, 8,000 RPM spindle with 40″ x 18″ x 18″ X-Y-Z travels. The VM series offers very attractive prices starting at $35,900 for the VM 1 model.

Visitors to both the Hurco and Brook's booths will also see the simplicity and flexibility of Hurco's powerful UltiMax control in action. Its industry unique, dual-screen configuration maximizes the capabilities of Hurco's patented, easy-to-use interactive knowledge-based programming features while also providing NC (M and G code) part programming.

Join Hurco and Brooks Associates at Eastec 2004 to view Hurco's latest machining center products and learn how Hurco's advanced technologies can provide innovative and cost effective solutions to your machining applications while delivering quality performance, optimizing workspace, and minimizing operator involvement.

Place an order for a new Hurco machine between April 1, 2004 and August 31, 2004 and receive UltiNet(TM) networking software and a certificate for wireless hardware. (The effectiveness of wireless networking varies with shop environments.)

To learn more about Eastec 2004, visit our website at www.hurco.com and click on the "News and Events" tab. You will find the dates, location, and a link to the Eastec 2004 website for more information.

More from Architectural & Civil Engineering Products