Skylight Finished by Linetec Crowns the Alfond Inn at Rollins, Florida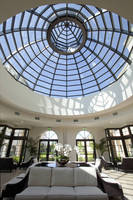 Wausau, Wisconsin  – The domed skylight crowning The Alfond Inn's large atrium quickly has become known as the hotel's "jeweled center" and key identifying feature of Rollins College campus' new landmark in Winter Park, Florida. Manufactured and installed by Super Sky Products Enterprises, LLC, this multi-slope, dome skylight with cupola and finial spans nearly 39 feet in diameter. This signature glass structure is framed in aluminum, finished by Linetec in Valspar's durable Fluropon® Classic II bronze finish.



The Alfond Inn's skylight-capped, 112-room destination opened August 2013 as the city's newest hotel, and one of only three in the area. Located 30 minutes from Walt Disney World, the new, boutique hotel is owned by Rollins College, Florida's oldest post-secondary institution. The 107,000-square-foot Alfond Inn is operated by The Olympia Companies.



Baker Barrios Architects, Inc. was selected to manage the hotel's planning, architecture, interior design and landscape architecture. The Alfond Inn embraces the surrounding campus' Spanish- Mediterranean revival style: softly curved corners, sturdy columns, white stucco and cast stone walls, wrought iron accents, high ceilings and as much natural light as possible.



Other highlights and amenities include 10,000 square feet of meeting space, a central courtyard, dog-friendly atmosphere, a luxurious pool, Hamilton's Kitchen restaurant with locally sourced ingredients and a contemporary fine art collection worthy of a docent-led tour. The interior décor blends classic and modern, combining plaster, tile and wood with glass and metal.



Durability, recycled and reusable materials, daylighting, energy efficiency and other environmental practices are all attributes currently being reviewed by the U.S. Green Building Council for Silver certification with LEED® Green Building Rating System. As an environmentally responsible finisher, Linetec safely captures and destroys the liquid paints' volatile organic compounds (VOC) content before the finished material arrives at the job site. The Alfond Inn



"For projects seeking LEED certification and other green goals, choosing durable products with no-VOC finishes can be an important part of the selection and specification process," explains Linetec's senior marketing specialist, Tammy Schroeder, LEED Green Associate. "Like other 70% PVDF [polyvinylidene fluoride resin-based finishes, Valspar's Fluropon coatings are amongst the most weather-resistant of all finishes, meeting the most demanding, exterior, architectural specification AAMA 2605-11."



This specification requires paint coatings to meet rigorous testing performance standards, including more than 2,000 hours of cyclic corrosion per ASTM G85 annex 5, and heat- and humidity-resistance. Per AAMA-2605, the coating also must maintain its film integrity, color retention, chalk resistance, gloss retention, and erosion resistance properties for a minimum of 10 years on the South Florida testing site. Helping manage the Florida sunshine's solar heat gain, the skylight also incorporates Viracon's high-performance, insulated laminated glazing units.



The Alfond Inn is open to all who visit the Florida campus and presents a lasting, positive impression on Rollins College's prospective students and their families. "We wanted them to feel at home -- not just the students but the parents," commented Shannon Michael Larimer, Baker Barrios Architects' vice president of marketing, as reported in the Orlando Sentinel."



The $30 million hotel was built, in part, with a $12.5 million grant from the Harold Alfond Foundation. As a condition of the gift, revenue from the hotel funds scholarships to Rollins College through the Alfond Scholars fund. The Alfond Inn



Skylight paint by Linetec on The Alfond Inn The Alfond Inn at Rollins; 300 E. New England Ave., Winter Park, Florida, 32789;

http://www.thealfondinn.com



• Owner: Rollins College; Winter Park, Florida; http://www.rollins.edu

• Co-developer/operator: The Olympia Companies; Portland, Maine; http://www.theolympiacompanies.com

• Architect, interior designer and landscape architect: Baker Barrios Architects, Inc.; Orlando; http://www.bakerbarrios.com

• General contractor: Brasfield & Gorrie; Winter Park, Florida; http://www.brasfieldgorrie.com

• Skylight system – manufacturer and installer: Super Sky Products Enterprises, LLC; Mequon, Wisconsin; http://www.supersky.com

• Skylight system – glass fabricator: Viracon, Inc., Owatonna, Minnesota; http://www.viracon.com

• Skylight system – finish: Valspar 70% PVDF Fluropon®; The Valspar Corporation; Minneapolis; http://www.valsparcoilextrusion.com

• Skylight system – finisher: Linetec, Wausau, Wisconsin; http://www.linetec.com

• Photographer: William Lemke; courtesy of Super Sky

• Videos: http://www.youtube.com/watch?v=2ThM-J6906U, http://youtu.be/3LUsvYFCpnQ

• Virtual tour: http://173.230.132.143/vtour/alfondhtml5/htmld/index.html





About Linetec

Located in Wisconsin, Linetec celebrates 30 years of serving customers across the country. The company finishes such products as aluminum windows, wall systems, doors, hardware and other architectural metal components, as well as automotive, marine and manufactured consumer goods. Linetec is a subsidiary of Apogee Enterprises, Inc. (NASDAQ: APOG).



Linetec is a member of the American Institute of Architects (AIA), the American Architectural Manufacturers Association (AAMA) and the U.S. Green Building Council (USGBC). For more information about Linetec, its services and news, visit http://www.linetec.com.





Related