SkyHawk AI 3.5-Inch Hard Disk Drive is suitable for video surveillance applications.
Press Release Summary: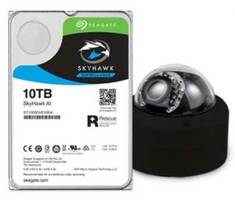 SkyHawk AI 3.5-Inch Hard Disk Drive is suitable for deep learning and machine learning applications. Unit is equipped with ImagePerfect AI firmware which enables user to record high quality, sharp video footage with no dropped frames. Product is available in 10TB and 8TB capacities and comes with five-year limited warranty. SkyHawk AI allows operator to analyze and record footage from multiple HD cameras.
---
Original Press Release:
Seagate SkyHawk AI 3.5-Inch HDD for AI-Enabled Surveillance
$450 (10TB) and $350 (8TB)
Seagate Technology plc announced its SkyHawk AI HDD, a drive created for artificial intelligence (AI)-enabled video surveillance solutions.
Building on the company's 10-year track record of delivering surveillance storage performance, It provides bandwidth and processing power to manage always-on, data-intensive workloads, while simultaneously analyzing and recording footage from multiple HD cameras.
Analytics on video surveillance hardware is growing, forecasted to increase from 27.6 million shipments in 2016 to 126 million shipments in 2021 (Cropley, 2017), as hardware manufacturers continue to include analytics sensors on network video recorders (NVRs). This will only increase as AI - particularly deep learning and machine learning applications, such as facial recognition and analyzing irregularities in behavior - become increasingly prevalent. In parallel, the need for fast video analytics will continue to rise, increasing the workload burden on NVR storage.
"The use of AI technology in surveillance is steadily increasing - both in the edge and backend installations such as retail fronts and large city traffic management. Seagate has led the surveillance storage market since its early days, a decade ago, by delivering industry leading HDD products that have enabled more than 5X increase in exabytes during this time period," said Sai Varanasi, VP, product line management, Seagate. "We are excited to introduce smart, purpose-built SkyHawk AI solutions that expand the design space for our customers and partners, allowing them to implement next-generation deep learning and video analytics applications."
SkyHawk AI is for intensive computational workloads that typically accompany AI work streams, as its throughput and enhanced caching deliver low latency and random read performance to quickly locate and deliver video images and footage analysis. This enables on-the-edge decision making, eliminating the latency of exchanging cloud-based data and processing. Equipped with the firm's ImagePerfect AI firmware, the drive reliably records high quality, sharp video footage with no dropped frames, while simultaneously facilitating AI-enabled NVR analytics - ensuring that intelligence gathered through video surveillance footage is not lost.
"As smart cities, smart transportation, and other surveillance programs become more prevalent, the number of surveillance nodes has reached the hundreds of thousands. Due to the widespread use of high-definition monitoring, the amount of data required in security surveillance has dramatically increased. The efficient collection, analysis, and application of data is becoming ever more critical," said Guo Xudong, deputy GM, domestic sales and marketing, Hikvision Digital Technology Co., Ltd. "We are excited that Seagate will launch the industry's first AI optimized surveillance drive which will enable us to efficiently manage storage and processing challenges, including, but not limited to, our DeepinMind NVR series."
"Video analytics has been evolving over the past 10 years and is garnering a lot of attention these days due to the use of AI. Dahua Technology made an early start in AI applications and has since made several achievements in the industry, for example, the newly launched IVSS series," said Yang Shengwei, director, products and solutions, domestic sales operation center, Dahua Technology Co., Ltd. "As a strategic partner, Seagate's advanced technology will help Dahua to reach a new top in the AI field. We hope with the newly launched SkyHawk AI drive we can boost the AI application across the surveillance industry."
"With the rapid advancement of IoT, cloud computing, and big data, we're entering an intelligent security era. AI is now prevalent in the security market and will be driving the development of the industry in coming years," said Li Lin, VP of Zhejiang Uniview Technologies Co.,Ltd. "Storage is a key factor for surveillance and we believe with the SkyHawk AI drive we can optimize the performance of Uniview's systems and increase value for our clients."
SkyHawk AI is shipping to customers worldwide through appointed authorized distributors.
Every SkyHawk AI drive is covered by a five-year limited warranty, and is bundled with a two-year coverage from the company's Rescue Services. The SkyHawk AI HDD is available in both 10TB and 8TB capacities and has MSRP in the U.S. of $449.99 and $349.99, respectively.
More from Software