Skorpio™ X4 Mobile Computer features handheld or pistol-grip form factor.
Press Release Summary: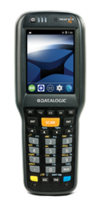 Skorpio™ X4 Mobile Computer features TI OMAP4 @1GHz, 1GB RAM and 8 GB flash. Offering attachable/removable handle, unit comes with 50-key alphanumeric, 38 key functional and 28 key numeric keypads. Rated IP64, Product features Datalogic SoftSpot™ technology, wide band audio and is offered in 1D or 2D model. Equipped with high-visibility 3.2 inch color touchscreen, computer is integrated with High performance architecture with 3x CPU speeds and 7x memory read/write option.
---
Original Press Release:
Datalogic Introduces the Skorpio X4 Mobile Computer
Featuring high performance multi-core 1 GHz architecture with the choice of Windows Embedded or Android operating systems
Datalogic, a global leader in automatic data capture and industrial automation markets, is proud to announce the Skorpio™ X4 mobile computer representing the next generation of the highly-successful Skorpio mobile computer line from Datalogic. This rugged mobile computer is especially suitable for mobile commerce solutions in the retail environment both in-store and back-end receiving.
"Datalogic has designed this next generation Skorpio mobile computer to allow full compatibility with the previous Skorpio X3 accessories and with existing WinCE applications enabling customers to protect their previous investments," states Tom Burke, VP Mobile Product Marketing. "We provide an easy migration path to Android™ models reflecting the recent Enterprise trends."
The Skorpio X4 mobile computer is equipped with the largest high-visibility 3.2 inch color touchscreen in its class, allowing users to work more efficiently. This rugged mobile computer presents the best ergonomics on the market, effectively reducing operator fatigue with no compromise in terms of reliability and robustness.
This mobile computer's wireless communications capabilities (802.11 a/b/g/n) enables speedy transmission of data, while the new MIMO antennas provide extended coverage. Bluetooth® v4 short range wireless technology provides support for the new low energy mode (BLE).
The Skorpio X4 mobile computer is available in a 1D or 2D model. The 1D version integrates an innovative linear imager featuring a green scan line that generates crisp aiming with reading performance that exceeds most laser based devices. The white illumination, megapixel 2D imager provides excellent reading range for both 1D and 2D symbologies.
Additional key elements of the Skorpio X4 mobile computer include:
High performance architecture with 3x CPU speeds and 7x memory read/write as compared to Skorpio X3 mobile computer
TI OMAP4 @1GHz, 1GB RAM, 8 GB Flash (all models)
IP64 rating with a 1.8 m / 6ft drop spec
Handheld or Pistol-grip form factor, with attachable/removable handle
Backward compatibility with existing Win CE applications
Three keyboards for maximum efficiency: 50-key alphanumeric keypad; 38 key functional keypad; 28 key numeric keypad
Patented 'Green Spot' technology for good read feedback
Datalogic SoftSpot™ technology for a customizable soft trigger
Wide Band Audio for improved speech recognition (Android only)
Choice of Microsoft Windows Embedded Compact 7 or Android v4.4 operating systems
WEC7 units include
Wavelink®Avalanche™ pre-installed and pre-licensed
Wavelink TelenetCE pre-installed and pre-licensed on Pistol Grip units
Pal™ pre-installed
Upgradable to Android 4.4
The Skorpio X4 mobile computer is an excellent fit for a broad span of applications including inventory/picking, shelf replenishment, price management, order entry, assisted sales, line busting and shipping/receiving. Please contact your designated sales representative for further information for this new, exciting product.
Datalogic is a global leader in the automatic data capture and process automation markets, specialized in the designing and production of bar code readers, mobile computers, sensors for detection, measurement and safety, RFID vision and laser marking systems. Datalogic solutions help to increase the efficiency and quality of processes in the Retail, Manufacturing, Transportation & Logistics and Healthcare industries, along the entire value chain.
The world's leading players in the four reference industries use Datalogic products, certain of the attention to the customer and of the quality of the products that the Group has been offering for 45 years. Today Datalogic Group, headquartered in Bologna (Italy), employs approximately 2,700 staff worldwide, distributed in 30 countries, with manufacturing and repair facilities in the USA, Brazil, Italy, Slovakia, Hungary and Vietnam. In 2016 Datalogic had a turnover of 576.5 million Euro and invested over 50 million Euros in Research & Development, with an asset of more than 1,200 patents in multiple jurisdictions. Datalogic S.p.A. is listed in the STAR segment of the Italian Stock Exchange since 2001 as DAL.MI. More information about Datalogic at http://www.datalogic.com.
Related