Skimmer removes chips and oil from coolant sump.
Press Release Summary: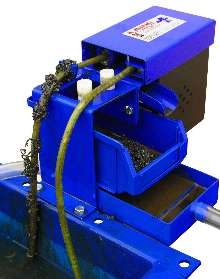 Suited for limited access locations, ChipGrabber(TM) mounts on side of machining center coolant sumps. Measuring 4 ft long, collector tube uses existing opening or small access cutout and runs through surface of coolant to collect tramp oil. It then snakes along tank bottom to collect fallen steel chips and swarf. Chips are collected in removable tray, and oil is discharged into waste container. Unit employs fan-cooled, continuous-duty motor.
---
Original Press Release:

Abanaki's New ChipGrabber(TM) Uses New Approach To Remove Chips and Oil from Coolant Sump


New compact unit contains patented technology to create a lower-cost solution than existing skimmers or drag-outs!

Cleveland, OH, October XX, 2002 - Abanaki Corporation, the world leader in oil skimming products, has introduced a new patent pending chip and oil skimmer that is ideal for coolant sumps with limited access.

The problem-solving ChipGrabber(TM) easily mounts to the side of virtually any machining center coolant sump. Using an existing opening or through a small access cutout, the unit's collector tube runs through the surface of the coolant, collecting tramp oil, and then snakes along the tank bottom, collecting fallen steel chips and swarf. The chips are collected in an easily removable tray and the oil is discharged into a waste container.

The secret to the unit is the new proprietary tube. For the first time, a skimmer pickup media is both oleophilic, so it attracts tramp oils, and highly magnetic, so it attracts steel chips. Traditional oil skimmers just remove oil and not chips. Traditional drag-out machines are so large and expensive, that they are impractical for a single machine tool. The ChipGrabber makes for an inexpensive and compact drag-out system designed for individual machines. The user saves thousands of dollars over traditional drag-out and skimming equipment.

"The ChipGrabber can keep individual coolant sumps clear of steel chips and oil at a rock bottom price," says Abanaki President Tom Hobson, "It eliminates the hated, dirty job of scraping the bottom of the sump, and all the down time associated with it." The ChipGrabber, priced at $489, features a fan-cooled continuous duty motor and collector tube allowing a reach of 4'; longer lengths are also available.

The ChipGrabber is just one of many industry-leading products from Abanaki Corporation. Headquartered in Cleveland, Ohio, Abanaki has served a global customer base in industries as diverse as iron and steel, wastewater, paper, food processing, automotive, environmental remediation, and recycling for more than 30 years.

For more information about ChipGrabber(TM) or other Abanaki products, contact Chris Ott at (440) 543-7400 or (800) 358-SKIM (7546), or by e-mail: cott@abanaki.com. See the full-line of Abanaki products and services online at www.abanaki.com.

More from Material Handling & Storage