Skid Steer Loader has hydraulic self-leveling bucket.
Press Release Summary: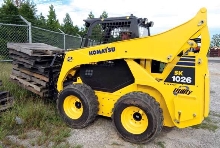 Powered by turbocharged S4D98E-2NFD diesel engine running 84 hp at 2,500 rpm, 4-ton SK1026-5 incorporates HydrauMind(TM) hydraulic system, automatic power control, and vertical lift loader arm design. Dual-speed transmission boost operation enables speed changes from 6.5 mph work range to 10 mph travel range. Dimensions include 45.7 in. wheelbase and 36.8 in. max reach. Weighing 8,068 lb, unit has 2,650 lb operating load and 5,300 lb tipping load.
---
Original Press Release:

Komatsu Launches 4-Ton Skid Steer Loader For Powerful Performance in Demanding Applications


· Largest skid steer loader manufactured by Komatsu
· HydrauMind(TM), Automatic Power Control, 2-speed transmission boost operation
· Vertical lift design allows maximum bucket reach at full dump height

VERNON HILLS, Ill.-- January 27, 2005 -- Komatsu America Corp. (KAC) introduces the SK1026-5 skid steer loader, an 8,068-lb. unit designed to meet customers' demands for increased power and performance in a variety of material handling applications.

"Our newest, largest skid steer loader offers performance features for improved productivity in heavy lift and carry as well as routine excavating tasks," says Bob Lessner, product manager, Komatsu America Corp.

The SK1026-5 features increased HP with enhanced loader arm and bucket control, one of the longest wheelbases in its class, and high performance HydrauMind(TM) hydraulics, Automatic Power Control, and standard two-speed travel features.

The SK1026-5 is powered by Komatsu's turbocharged and fuel-efficient S4D98E-2NFD diesel engine, running 84 HP at 2,500 rpm. The hydraulic self-leveling bucket with 5,400 lb. breakout force improves the productivity of the operator on the job site. The 40-degree dump and 28-degree rollback angles of the bucket allow for faster dump cycles and load retention over rough terrain.

The SK1026-5 features a vertical lift loader arm design, designed to keep the load steady through the lifting cycle and allow for maximum bucket reach at full dump height. This makes the machine ideal for truck loading and the handling of palletized materials. It also improves stability in load and carry applications since the bucket remains close to the machine and moves in a vertical path.

Maximum Performance and Control
The SK1026-5 comes standard with Komatsu's HydrauMind hydraulic system that allows simultaneous machine functions (loader-arm, bucket maneuvering, etc.) without sacrificing speed, engine power or performance.

The SK1026-5's hydraulic system features as standard equipment an auxiliary hydraulic circuit with a flow of 21 gallons per minute (gpm), with an additional "Super Flow" auxiliary hydraulic circuit available for a maximum flow at 34 gpm, both at a maximum pressure of 3,045 psi. Komatsu's Closed Load Sensing System (CLSS) comes as a standard option. It ensures maximum bucket control during both single and simultaneous bucket movements, critical in grading, loading and digging applications where precise maneuvering is required.

Komatsu's exclusive standard two-speed travel allows for low impact shift-on-the-go speed changes between 6.5 mph work range and 10 mph travel ranges for improved load and carry cycle times and travel times between job sites.

Also boosting engine performance is the Automatic Power Control (APC) system. The APC is Komatsu's patented anti-stall hydraulic system. It lets the operator work with full engine power during the toughest job site applications without worrying about engine stall.

Optimal Load and Carry Features
The SK1026-5's 45.7 in. wheelbase gives the operator a more stable ride and a better platform for operating high flow attachments. More than 40 attachments are available for the SK1026-5 through Komatsu distributors.

The SK1026-5 features a rated operating load of 2,650 lb. and a tipping load of 5,300 lb. (2,850 lb. and 5,700 lb., respectively, with optional rear counterweights). Breakout force varies: 5,400 lb. with a short lip bucket and 4,740 lb. with a long lip design.

Bucket width equals 74 in. with an overall machine length of 144.9 in. The SK1026-5 effectively loads trucks 10 ft. and lower and features a maximum reach of 36.8 in.

Smooth and Efficient Operator-Friendly Controls and Cab
All instrumentation is located on the operator restraint bar for easy viewing, and all controls and switches are within easy reach of the operator. Komatsu's Proportional Pressure Control (PPC) joystick levers are easy to use while still providing easy and accurate control of the machine. Operators have the choice of three control patterns, ranging from traditional hand and foot controls to two variations of the increasingly popular all hand controls. All three control patterns are fully hydraulic, adjustment free and maintenance free.

Operator productivity also is improved with an operator restraint bar, which incorporates an LCD gauge panel and warning light system. In addition, a loader arm float function control can be engaged on the joystick for enhanced back dragging or attachment applications.

The optional fully-enclosed cab with slide-up overhead front door features an expansive entrance, excellent 360-degree visibility, heating and air conditioning. Other options include ride control, engine air pre-cleaner, suspension seat and fenders. Safety features include a backup alarm, horn, 3-in. seatbelt, and a seat switch and restraining bar that both automatically neutralize machine operations when the operator moves off the seat or raises the bar.

Komatsu America Corp. (KAC) is the second-largest manufacturer and supplier of construction, mining and utility equipment and parts and services in North America. Visit Komatsu America's website at www.komatsuamerica.com.

More from Machinery & Machining Tools