Skid Steer Attachments fit John Deere equipment.
Press Release Summary: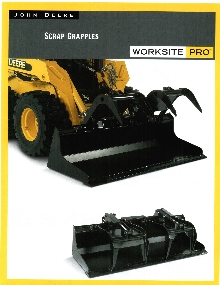 Worksite Pro skid steer attachments include grapples, brooms, bale spears, breakers, backhoes, dippers, buckets, rollers, tracks, planers, augers, trenchers, rakes, toothbars, teeth, forks, tillers and hitches. All attachments connect to skid steer via Quik-Tatch system. It has self-cleaning, rotating pawl assembly that makes it easy to engage and disengage attachments.
---
Original Press Release:
Worksite Pro(R) Attachments from John Deere Increase Skid Steer Versatility
A full line of Worksite Pro® skid steer attachments from John Deere is steadily increasing the versatility of the John Deere designed and manufactured 200 Series Skid Steers. Worksite Pro attachments, compatible with most skid steer models, are crafted with the same precision, quality and attention to detail that embody John Deere equipment. The growing Worksite Pro line includes three backhoes, 22 standard buckets, three multipurpose buckets, two augers, four breakers, three trenchers, four cold planers, two vibratory rollers and two power rakes. Operators can also find Worksite Pro pallet forks, toothbar kits, Pro Fanggs® Teeth, a rotary tiller and tracks to help meet their changing needs. All attachments connect with the John Deere skid steer "Quik-Tatch" system. The system features a self-cleaning, rotating pawl assembly that makes it easy to engage and disengage attachments. Worksite Pro Grapples New in 2002, John Deere offers two lines of grapples for a variety of uses. The GU66, G1J72 and the GU78 feature a one-piece grapple for handling of hay and manure. These models come with standard 5.4-inch tine spacing, with the ability to add tines to decrease the spacing to 1.5 inches. The GS66, GS72, GS78 and GS84 units offer two independent action grapples that allow different sized objects to be picked up in each grapple. The G172 and GT80 grapples also offer two independent-action grapples. This line has precise 4-inch gaps between tines allowing for sifting and sorting of material. All grapples include greasable pivot points hardened 1-inch pins and hardened cylinder rods for increased durability. Worksite Pro Brooms The Worksite BA and BP line of brooms is also new in 2002. The BA72 and BA84 models are 32 inches in diameter, featuring hydraulic angling with parallel swing arms for improved centering. The BP72 and BP84 have a 25-inch diameter and a heavy-duty, high-torque drive motor coupled to the brush core. Bolt adjustment on the BP models allows for infinite height control. Both models feature 50/50 polywire brush segments. Worksite Pro Bale Spear The new Worksite Pro Bale Spear features a three-point support and a tapered spear design that help reduce drag resistance as the spear is inserted and removed from the bale. The spear has a low profile, with unrestricted visibility to spear tip. Worksite Pro Breakers The Worksite Pro Breakers include the models HB15, HB30, HB50, FHB75 and HB100. All have a high power-to-weight ratio which means more force is transferable to the attachment Low recoil means increased operator comfort and productivity. Breaker sizes range from 150 to 1,000 foot- pounds of energy per blow. A demolition door and shoulder belt are required when operating a breaker attachment. Available breaker tools include blunt point, moil point, chisel point, frost wedge, tamping pad and an asphalt cutter. Worksite Pro Backhoes John Deere offers three backhoe models - the Worksite Pro 850, 900 and 911. All models feature heavy-duty pivot pins for added strength and durability, two-lever control for centralized operation, and replaceable, greasable bushings in all operational pivot points. Metered hydraulic spools offer precise control of backhoe movements. The Pro 911 extendable dippers offer up to 11 feet of digging depth. Backhoe buckets are available in 12- to 36-inch widths. Wide-stance stabilizers provide increased machine stability. Reduced console width provides greater operator comfort and improved bucket visibility. A convenient grab rail and larger non-slip footrests allow for easy access to the operator's station. Worksite Pro Buckets John Deere is offering 22 different models of buckets. These include six construction buckets from 54 inches to 84 inches, four dirt and foundry buckets from 54 inches to 72 inches, six dedicated tooth buckets from 54 inches to 84 inches, three light material buckets from 60 inches to 84 inches, and three manure/slurry buckets from 60 inches to 84 inches. The buckets are designed to break ground easily with their sharp cutting edges. Tooth buckets offer a flat bottom, making them especially useful tools for back dragging. A 45-degree dump angle and sloped 8-inch backsheet radius allow for superior bucket fill and dump capabilities. All construction buckets are designed with predrilled holes for bolt-on toothbars and bolt-on replaceable cutting edges. Manure/slurry buckets are also designed with predrilled holes for bolt-on reversible cutting edges. Worksite Pro Multipurpose Buckets Ideal for a variety of tasks, the MP66, MP72, MP78 and the new MP84 multipurpose buckets can be used to bulldoze, scrape, clamp, load and meter material. The 66-inch, 72-inch, 78-inch and 84-inch buckets feature excellent visibility to the durable cutting edge. The buckets have predrilled holes for an optional bolt-on toothbar or replaceable bolt-on cutting edge. These holes make for easier toothbar and cutting edge attachment and increase bucket performance and life in tough digging conditions or when scraping on hard surfaces. Worksite Pro Vibratory Rollers Ideal for compacting sand, gravel, dirt, asphalt patches or backfill work, the Worksite Pro Vibratory Roller models VR66, VR73 and the new VR84 feature either a smooth or padded drum, with an oil bath to protect critical drum and shaft bearings. There is also a drum scraper to prevent material buildup. Powered by standard hydraulics, rollers produce compaction forces up to 11,000 pounds. Worksite Pro Tracks Worksite Pro Tracks are ideal for improving skid steer traction and flotation in soft, muddy or loose conditions. The self-cleaning tracks feature induction-hardened traction bars and larger bushings and links to extend wear life. Sloped-link casting helps eject materials that could interfere with movement. Available for all pneumatic tire sizes, tracks help reduce tire wear in abrasive situations. Worksite Pro Cold Planers The Worksite Pro Cold Planers - CP16, CP18 and CP24 - feature electro-hydraulic tilt, depth and side-shift control for greater maneuverability and increased cold-planing production. Top-pivot drum design increases down force with depths up to 6 inches. The cold planer is available in 12- to 24-inch widths. The CP12 cold planer utilizes standard skid steer hydraulic flow. It has a direct drive, high-torque motor and depth adjustment down to 5 inches. Worksite Pro Cold Planers are ideal for milling asphalt and concrete surfaces damaged from cracks, frost heaves and potholes. Worksite Pro Augers John Deere Worksite Pro offers two augers - the heavy-dutyPA30 and lighter-duty,CA25. The Worksite Pro Planetary Auger and the Worksite Pro Chain Auger both have self-plumbing auger bits. The planetary auger features an "In-Line" drive design that eliminates chain and sprocket reduction. Heavy-duty, planetary gear design ensures long life with normal maintenance and service. A hydraulic relief valve prevents auger damage from striking fixed objects. The planetary drive unit is completely sealed which eliminates the need for conversion and plumbing. The Worksite Pro Chain Auger has a fixed chain center to help eliminate the need for adjustments. A floating-drive sprocket ensures constant chain alignment. Spring-loaded, double-lipped seals guard against contamination. Worksite Pro Trencher The John Deere Worksite Pro Trenchers - the TR36 and TR48 - feature standard hydraulic flow requirements with trenching capability up to 4 feet deep and 6 inches wide. The John Deere Worksite Pro TR60 features high flow hydraulic requirements with trenching capability up to 5 feet deep and 6 inches wide. All trencher models feature indicators that signify proper digging angles. A heavy-duty direct drive system eliminates chain reduction and built-in skid shoes provide proper auger depth control. To further increase productivity, a standard heavy-duty crumber allows removal of loose soil. The trenchers accept multiple chain styles. Worksite Pro Power Rakes The Worksite Pro Power Rakes - PR72 and PR96 - feature parallel arm design that allows the rake to follow ground contour - making it ideal for landscaping, seedbed preparation, rock raking and material wind-rowing. Carbide hard-surface teeth are welded on the roller to aid in digging, lifting and pulverizing dirt. The heavy-duty drive chain is housed in a sealed oil bath to reduce maintenance. Adjustable end-plates trap and gather stones for piling and pickup. Available in 72- or 96-inch widths, the rake has bidirectional raking capability. Worksite Pro Toothbar Excellent for loosening compacted soil or grubbing out rocks, the toothbar kit is an economical and durable alternative to bolt-on or weld-on individual teeth. Installation is quick and easy, requiring only two bolts. Worksite Pro Fanggs@ Teeth Exclusive to John Deere, these teeth provide increased bucket fill, improved start dig characteristics, faster bucket cycles and extended life. Worksite Pro Pallet Forks Designed with strength and durability in mind, the single-piece frame Worksite Pro Pallet Forks are available in pin or rail styles to allow for floating or fixed forks, respectively. A side step provides easy access to and from the operator's station, while increased visibility improves operator performance. Worksite Pro Rotary Tiller Able to till in forward and reverse directions, the RT55 and the new RT73 can be switched from coarse to fine tilling simply by raising or lowering the heavy-duty leveling board. The RT55 and the RT73 tills up to a depth of 6 inches and may be center set or offset 5.5 inches right or left, making it ideal for close tilling beside walls and sidewalks. Worksite Pro Three-Point Hitch The Category I Worksite Pro 3-point hitch allows quick hookup and use of tractor implements like box scrapers, blades and scarifiers with skid steers. The alternate top pin-point chain allows 15- degree forward and reverse float to better follow ground contour.