Skid Mounted Condensate Pumps feature float-free design.
Press Release Summary: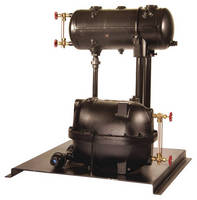 Having no springs, pivot points, or floats, Liqui-Mover® pressure-power condensate pumps offer capacities up to 180,000 lb/hr. They use 150 psig ASME labeled steel tanks and are rated up to 450°F. Using steam or compressed air as motive pressure to lift or pump high-temperature condensate, pumps reduce or eliminate loss of flash steam and associated heat energy.
---
Original Press Release:

Kadant Johnson Liqui-Mover® Pumps Provide an Energy-Saving Alternative to Centrifugal Pumps



Three Rivers, Mich.,- Kadant Johnson Inc., a subsidiary of Kadant Inc. (NYSE:KAI), recently expanded its Liqui-Mover® pressure-power condensate pump line to include skid-mounted packages using a float-free design. Float-free units have no springs, pivot points, or floats and offer capacities up to 180,000 pounds per hour. Liqui-Mover pumps are available as packaged or standalone units in either float-free or float-operated configurations. Float-operated units are non-electric self-actuating pumps and offer capacities up to 14,900 pounds per hour. Both versions use 150 psig ASME labeled steel tanks and are rated up to 450 F.

The Liqui-Mover pump, first introduced in 1934, has no motors, starters, shafts, rotating mechanical seals, or impellers. Instead, they use steam or compressed air as the motive pressure to lift or pump high-temperature condensate. Both the float-operated and float-free configurations reduce or eliminate the loss of flash steam and the associated heat energy, making these units highly efficient and highly reliable.

Kadant Johnson Inc., based in Three Rivers, Michigan, is a leading provider of rotary joints, precision unions, and fluid handling systems to process industries, where they optimize heat transfer in rotating cylinders and integrate fluid handling systems.

Kadant Inc. is a leading supplier to the global pulp and paper industry, with a range of products and services for improving efficiency and quality in pulp and paper production, including paper machine accessories and systems for stock preparation, fluid handling, and water management. Our fluid-handling products are also used to optimize production in the steel, rubber, plastics, food, and textile industries. In addition, we produce granules from papermaking byproducts for agricultural and lawn and garden applications. Kadant is based in Westford, Massachusetts, with revenues of $226 million in 2009 and 1,600 employees in 16 countries worldwide. For more information, visit www.kadant.com.

Danielle Rohrer

Marketing Manager

Kadant Johnson Inc.

805 Wood St.

Three Rivers, MI 49093 USA

Tel: +1-269-278-1715

Fax: +1-269-273-2230

Email: danielle.rohrer@kadant.com

Web: www.kadant.com

More from Electrical Equipment & Systems