SKF Insight Intelligent Bearing Technology Trialed in Railway and Wind Energy Sectors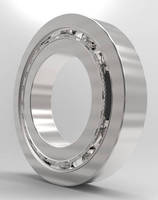 At the Hannover fair, SKF will demonstrate how its revolutionary SKF Insight technology is improving bearing health management in the railway and wind energy sectors



Gothenburg, Sweden – SKF has begun to apply SKF Insight – its revolutionary bearing health management technology – in several high-end industry applications.



The technology, which uses a self-powered, intelligent wireless sensors in the SKF bearing to provide instant condition monitoring data via the Internet, is undergoing trials in challenging projects in the wind turbine and railway industries.



Applying SKF bearing health management algorithms to the data provided by SKF Insight allows an 'adaptive' approach to maintenance. While traditional condition monitoring detects bearing damage, SKF Insight spots the abnormal conditions that cause the damage and can take actions to prevent the damage.



"It goes beyond current 'sensorised' bearing technology by integrating a broader range of sensors, and could include self-powering and intelligent wireless technology," said Ronnie Spolidoro, Business Development Manager SKF Insight "These bearings are connected to the SKF Cloud, giving customers access to a range of SKF diagnostic and support services, which ensures complete bearing health management."



SKF Insight monitors dynamic parameters such vibration, temperature, lubrication condition and load, and informs the user when conditions are abnormal and can threaten to cause bearing damage. When it was launched, at Hannover 2013, SKF Insight was a technology concept – a way in which maintenance engineers might improve condition monitoring by keeping tabs on bearing health. Two years on, it is a fully functioning solution running in customer pilots, capable of supplying data directly to diagnostic centres for better condition monitoring via the SKF Cloud using SKF @ptitude. From here, dashboards and reports can be supplied to the plant operator, machine manufacturer, SKF or any other authorized person with internet access.



The data can also be accessed on mobile devices such as iPads – and this is how SKF Insight will be demonstrated during Hannover, in a live working exhibit.



Now using dynamic bearing data provided by SKF Insight, bearing health management is an innovative new approach under development which will determine how actual conditions are affecting bearing health and trigger corrective action to cure it – such as automatic addition of lubricant or altering machine conditions. This prevents damage to the bearing, to maximize its useful life.



One of the most promising areas of application for SKF Insight is in wind turbine monitoring, because of the huge cost of maintenance. In some cases, changing the main bearing on a wind turbine is so expensive that it undermines the business case for building the turbine in the first place. Used here, SKF Insight could monitor loads and lubrication conditions in service, giving plenty of time to prevent the development of damaging process conditions.



The company is already working with a wind turbine customer to develop such a system. It measures dynamic bearing information in the true operating state, then wirelessly communicates it to remote monitoring centres or local maintenance crews. The solution being developed will monitor bearing speed, vibration, temperature and lubrication condition. Most importantly, it can be retro-fitted – so could enhance the operational potential of both new turbines and the many thousands that are already in operation worldwide.



The company is developing a similar solution in the railway sector, for wheel end bearings -critical components that are usually changed at set intervals, regardless of their condition. SKF Insight creates a cost effective way of collecting condition monitoring data so that bearing life and change-out intervals are determined based on real operating conditions.



SKF Insight and bearing health management are among a series of innovations that SKF will showcase at this year's Hannover fair (April 13th – 17th). More information can be found at hall 22, booth B12, and on www.skfpowerthefuture.com .



For further information, please contact:

Press Relations: Nia Kihlström, +46 31-337 2897; +46 706 67 28 97; nia.kihlstrom@skf.com



SKF is a leading global supplier of bearings, seals, mechatronics, lubrication systems, and services which include technical support, maintenance and reliability services, engineering consulting and training. SKF is represented in more than 130 countries and has around 15,000 distributor locations worldwide.



Annual sales in 2014 were SEK 70 975 million and the number of employees was 48 593. www.skf.com



® SKF and SKF Insight are registered trademarks of the SKF Group.

More from Software