SKAA TeamsUp with SOUNDBOKS for New High Performance Wireless Portable Speaker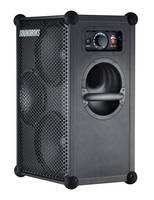 Now Shipping, the Completely Redesigned New SOUNDBOKS Features Wireless Audio, Networking Made Possible by SKAA Technology (Up to Five New SOUNDBOKS Speakers), 126 dB Volume, Pro Panel Inputs, & a Removable Steel Grill for Easy Customization
Edmonton, Alberta, Canada, & Copenhagen, Denmark, Aug. 28, 2019 – Third time is definitely the charm.
Eleven Engineering, Inc. (www.elevenengineering.com), a market leader in semiconductor products for wireless audio for portable, home theater, multi-room, professional, 12 Volt (car, truck, motorcycle, power sports, marine) and gaming applications, is proud to announce that the much anticipated New SOUNDBOKS performance portable wireless speaker, the third in the SOUNDBOKS line which now includes SKAA technology that enables multiple speaker networking, is now shipping. The New SOUNDBOKS is available for $999 USD at www.soundboks.com.
"We have finally created the speaker we've always wanted," explained Jesper Thiel Thomsen, CEO of Copenhagen, Denmark-based SOUNDBOKS. "Over the past four years we've been integrating community feedback with the vision of the speaker we have always wanted to build. The result is the New SOUNDBOKS. We were very focused on creating an unmatched sound experience, and multiple speaker networking and battery life were critical for that result. We are really excited to bring this to our community and lead a new category of networked Bluetooth® performance speakers."
Made possible by SKAA technology, the completely redesigned New SOUNDBOKS features the all new TeamUP mode that allows for wireless networking of up to five New SOUNDBOKS speakers.
The New SOUNDBOKS also includes multiple other upgrades, such as the Earthshaking 126 dB delivered by two powerful high efficiency Infineon Merus amplifiers, pro panel inputs, and a removable steel grill for easy customization. Extremely portable and easy-to-use, the New SOUNDBOKS weighs just 34 pounds and is the only wireless speaker with a removable battery that can last up to 40 hours on a single charge.
"The New SOUNDBOKS is loaded with features, but what really sets it apart from the competition is the ground-breaking TeamUp feature made possible by SKAA technology," explained Rex Whitehead, Eleven Engineering Executive Vice President – Sales & Marketing. "SKAA includes a multi-speaker networking technology called Nadja, which allows up to five New SOUNDBOKS speakers to be wirelessly driven by one Bluetooth source, all playing in perfect sync. While others are forced to connect multiple speakers via wires, that's not the case with the New SOUNDBOKS. Just feed the New SOUNDBOKS an audio source, and let SKAA do the rest. If you think one New SOUNDBOKS speaker is loud, just wait until you hear five that are wirelessly networked via SKAA."
Every New SOUNDBOKS speaker includes SKAA wireless and Bluetooth wireless, as well as multiple wired aux inputs. SKAA is a rich ecosystem of dozens of products. Since the New SOUNDBOKS is 100 percent compatible, it will work seamlessly with all pre-existing and future SKAA compatible devices, and the SKAA ecosystem as a whole.
SKAA is the new wireless HiFi audio standard developed by Eleven Engineering, Inc., and the ideal choice to take the New SOUNDBOKS performance speakers to the next level. In environments laden with heavy Wi-Fi and Bluetooth traffic, SKAA navigates through these hostile environments with best-in-class reliability. SKAA also allows for uninterrupted audio signals that are delivered with the highest sound quality to all speakers without the latency that is inherent in other wireless solutions.
SKAA is available as a built-in technology not requiring an external transmitter in purpose-designed partner products. SKAA transmitters work with iOS & Android mobile devices, Mac & Windows computers, televisions, and just about any product with a line output or a headphone jack.
Eleven Engineering breaks down the Seven Deadly Sins of WiFi Audio on its YouTube channel (https://www.youtube.com/watch?v=tw2iSCuT0x8) because "WiFi is more of a detriment rather than a benefit to those who value superior wireless audio in their everyday lives, as well as wireless audio product manufacturers who cater to and depend upon these customers," Whitehead concluded. "Check out our Dillinger Labs Helix wireless headphones. You won't be sorry."
For more information or to purchase Dillinger Labs wireless speakers and headphones, visit dillingerlabs.com and SKAAStore.com. For more on SKAA and the Seven Deadly Sins of WiFi Audio, please subscribe to https://www.youtube.com/user/SKAAwireless and visit SKAA.com.
For additional information, contact Rex Whitehead at 480-650-3979 or email [email protected]. For more information on Eleven Engineering, visit www.elevenengineering.com, SKAA wireless YouTube channel, and Facebook/.
Eleven Engineering breaks down the Seven Deadly Sins of WiFi Audio on its YouTube channel (https://www.youtube.com/watch?v=tw2iSCuT0x8)
About SOUNDBOKS
Designed in Denmark by a trio of passionate friends trying to find the perfect outdoor party speaker, SOUNDBOKS was originally designed to be the ultimate portable speaker. The goal was to design a speaker that would be loud, durable and have long battery life. Establishing new category of Bluetooth Performance Speakers, SOUNDBOKS launched in 2015 and has been growing ever since, co-located in Copenhagen and Los Angeles.
About Eleven Engineering, Inc.
Edmonton, Alberta, Canada-based Eleven Engineering, Inc. is a market leader in microprocessors SiPs (System in Package) and modules designed for wireless audio for Home Theater, Multi-Room, Portable, and Pro Audio products. Eleven's XInC2 multithreaded processor was designed specifically for digital wireless audio applications but is also well suited for other real time intensive microprocessor applications.
Eleven's high-performance wireless audio semiconductors, equipped with XInC2 wireless processor cores, are complete solutions for high-quality digital wireless audio transport. WFD™, Eleven's proprietary wireless audio transport protocol, has a narrow footprint in the radio spectrum, delivering both best-in-class coexistence with WiFi / Bluetooth and unparalleled Quality of Service.
Media contact:
Charlie Leib;  CRL Public Relations
480-380-0673; [email protected]