SK 920072.1 Helical Bevel Gear Motor Comes in 0.16 to 1.50 HP Power Range
Press Release Summary: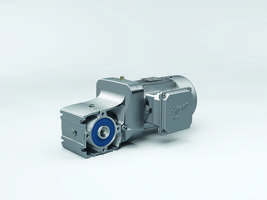 The new SK 920072.1 two-stage helical bevel gear motor is suitable for light duty conveying, processing and manufacturing applications. The units cover applications for torques up to 443 in-lbs and offer up to 97 percent gear efficiency. Products come in speed ratios from 3.03 to 47.67. They are available with either NEMA or IEC input.
---
Original Press Release:
NORD Launches Next Generation Two-Stage Bevel Gear Motors
Compact design and washdown housing option are ideal for light conveying and manufacturing
NORD's new SK 920072.1 two-stage helical bevel gear motor (mounted with a NORD motor) is an ideal drive solution for a wide range of light duty conveying, processing and manufacturing applications. Identified by its high-strength and light-weight design, NORD's newest aluminum gear motor is a cost-effective replacement for cast iron units. Two housing styles offer options for multiple applications and environmental conditions.
The next size of premium efficient two-stage bevel gearboxes from NORD DRIVESYSTEMS features a new compact, more efficient modular design. Covering applications for torques up to 443 in-lbs. (50 Nm) and offering up to 97 percent gear efficiency, the SK 920072.1 and SK 930072.1 are superior alternatives to worm gear units in light conveying and processing applications, as well as for food and beverage industries.
Like other NORD gearmotors, the new size comes in two housing designs – the SK 920072.1 has optimized thermal properties due to its large surface area. The SK 930072.1 is ideal for washdown applications because of its closed housing design.
The new NORD size has a power range of 0.16 to 1.50 HP (0.12 to 1.1 kW) and speed ratios from 3.03 to 47.67. They provide exceptional adaptability for all mounting positions as far as input, output and motor options. Available with either NEMA or IEC input, a NORD motor or brake motor, both the SK 920072.1 and SK 930072.1 gear units are well suited for use in the material handling industry, car wash, as well as for sanitary and hygienic environments.
Jim Alt, Sr. Project Application Engineer at NORD, said these are the smallest size offerings for two-stage helical bevels from NORD thus far. He explained, "The SK 920072.1 and SK 930072.1 are designed for customers who need a robust gearbox for smaller applications and a more efficient and reliable solution than a typical worm unit. In addition, we expect NORD customers to see significant purchase price advantages compared to similarly-rated helical bevel gear units."
Alt added, "The SK 930072.1 is also a cost-effective choice for smaller applications in corrosive environments, as NORD's NSD TUPH™ surface conversion system is available for this model."
The NSD TUPH surface conversion is a revolutionary process only offered by NORD. The aluminum alloy reducer housing and modular accessories are electrically catalyzed producing a strong corrosion resistant base layer (or molecular surface conversion). The additional top layer provides enhanced sealing, additional corrosion protection and a brighter finish.
Unlike painted cast iron gear units, the extremely strong base layer (six to seven times harder than the original aluminum alloy) provides superior corrosion resistance and scratch resistance, and it will not chip, flake or rust.
With NORD's leak-free design, longer gear and bearing life, quiet operation, and precise output torque capabilities, SK 920072.1 and SK 930072.1 helical bevels deliver high efficiency operations, low maintenance, and longer service life.
For a product sample, prototype or further information about the new SK 920072.1 series, contact your local NORD sales representative via NORD's Sales Contact Locator. To configure helical bevel gear units online, click here.
Company background
With more than 3,600 employees, NORD DRIVESYSTEMS has been developing, producing and selling drive technology for more than 50 years, and is one of the global leaders of full-service providers in the industry. In addition to standard drives, NORD delivers application-specific concepts and solutions for special requirements such as energy-saving drives or explosion-protected systems. In the 2017 financial year, annual sales amounted to $730 million. NORD has subsidiaries and sales partners in 89 countries worldwide. The extensive sales and service network guarantees optimal availability, enabling short delivery times and customer-oriented service. NORD produces a very diverse range of drives for torques from 88.5 to 2,212,000 lb-in (10 to 250 kNm), provides electric motors in the power range of .16 to 1,341 HP (0.12 kW to 1,000 kW), and manufactures frequency inverters with the required power electronics of up to 200 HP (160 kW). Inverter solutions are available for conventional control cabinet installations as well as for decentralized, fully-integrated drive units.
NORD Gear Corp – United States
Member of the NORD DRIVESYSTEMS Group
800 NORD Drive
PO Box 367
Waunakee, WI 53597
Phone: (888) 314-6673
Fax: (800) 373-6673
info.us@nord.com
NORD Gear | PO Box 367 | 800 Nord Dr. | Waunakee, WI 53597
Thomas McLaughlin
Phone: 608-849-7300 x 2957
Fax: -
Thomas.McLaughlin@nord.com
Getriebebau NORD GmbH & Co. KG
Getriebebau-Nord-Straße 1
22941 Bargteheide/Hamburg
Germany
Jörg NIERMANN
Phone: +49 45 32 / 2 89 -0
Fax: +49 45 32 / 2 89 -22 53
Joerg.Niermann@nord.com
More from Electronic Components & Devices