Size 12XD SMD Replaceable Drill Head enables deep hole making.
Press Release Summary: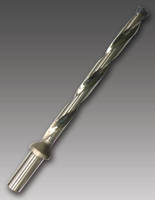 Able to fit up to 5 head sizes, SMD Replaceable Head Drill line, which includes 12XD drills, allows for deep hole making. SMD drill heads, or tips, featuring radial serration coupling design, are suited for precision stable drilling. Polished flute optimizes chip evacuation, SMD nickel-plated body lends to extended tool life, and carbide substrate with DEX coating offers wear-resistance at cutting edge. Rigid serration coupling system affixes replaceable carbide tips to drill face.
---
Original Press Release:

Sumitomo Cost-Saving SMD Replaceable Drill Head Line Grows to Include 12xd Drills



Mount Prospect, IL – Sumitomo Electric Carbide, Inc. has expanded their SMD Replaceable Head Drill line to include 12XD drills. SMD Replaceable Head Drills allow for deep hole making at a lower cost - SMD users buy just one drill body to fit up to five head sizes.



Featuring an original radial serration coupling design, SMD drill heads, or tips, are designed for high precision stable drilling. A polished flute ensures good chip evacuation.



The SMD nickel-plated body provides longer tool life than conventional replaceable tip drill bodies. A tough carbide substrate with patented DEX coating offers excellent wear-resistance at the cutting edge. A rigid serration coupling system affixes the replaceable carbide tips to the drill face, improving drill accuracy and repeatability.



Sumitomo offers a range of drill tip styles to improve performance in a variety of materials. The SMDT-MTL drill tip excels in steel applications, while the SMDT-C has a chamfered edge to eliminate break out in cast iron applications. The SMDT-MEL machines super alloys, stainless steels and cast iron proficiently.



Along with the new 12XD, Sumitomo's SMD line includes 3XD, 5XD and 8XD replaceable carbide tip drills.



For more information, visit IMTS Booth #W-2422 or contact Sumitomo Electric Carbide, Inc., 1001 Business Center Drive, Mount Prospect, IL 60056, Phone: (800) 950-5202, Fax: (847) 635-9335, e-mail: info@sumicarbide.com, or visit the Sumitomo website at www.sumicarbide.com.

More from Construction Equipment and Supplies