Six-Slot PXI Chassis suits remote control applications.
Press Release Summary: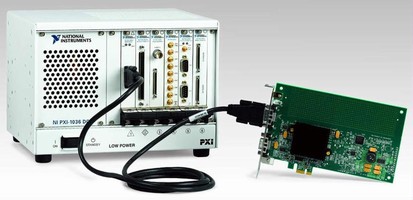 Providing portable, real-time remote control, NI PXI-1036 chassis may be controlled via PC, server, or workstation through MXI-Express, a transparent PCI Express-to-PCI bridge. Engineers also can use MXI-4 for traditional remote control of PXI. Weighing under 12 lb, PXI entry point enables control of up to 5 modular instrument or DAQ modules across remote link that offers 110 Mbps sustained analog bandwidth; 2 of 5 slots accommodate PXI/CompactPCI devices.
---
Original Press Release:
National Instruments Announces Its First-Ever Six-Slot PXI Chassis for Low-Cost Remote Control Applications
NEWS RELEASE - Aug. 23, 2005 - Engineers now can use the first-ever National Instruments six-slot PXI chassis for low-cost remote control and portable real-time control. For remote control, a PC, server or workstation controls the PXI chassis through MXI-Express, a transparent PCI Express-to-PCI bridge. Engineers also can use MXI-4 for traditional remote control of PXI. To reduce the initial PXI setup cost by 44 percent per slot (compared to a PXI-1031 chassis and MXI-4 kit), engineers can combine the new NI PXI-1036 chassis with a MXI-Express remote controller kit. With this low-cost PXI entry point, engineers can control up to five modular instrument or data acquisition modules across a remote link that offers 110 MB/s of sustained analog bandwidth - a more than 40 percent increase compared to MXI-4 PCI remote control of PXI. The NI PXI-1036 chassis works with all National Instruments remote controllers and two-slot wide PXI/CompactPCI controllers, such as the NI PXI-8145, for portable real-time control. The new chassis increases the number of slots available for measurement modules from three in the NI PXI-1031 chassis to five. With the same dimensions as the existing four-slot portable system, the NI PXI-1036 chassis adds two slots for PXI/CompactPCI devices by reducing the width of the supported embedded controller. The compact, rugged and portable chassis weighs less than 12 pounds and has a small footprint for portability. It features operating temperature range of 0 to 50 °C, and additional shock and vibration of 30 g. The PXI-1036 DC chassis offers a combined AC and DC power supply. The NI PXI-1036 chassis works seamlessly with a variety of NI software including the LabVIEW graphical development environment, NI TestStand test management software, LabWindows/CVI ANSI C development environment and SignalExpress interactive measurement environment. It also works with all PXI and CompactPCI instruments, including modular instruments and data acquisition devices. About PXI PCI eXtensions for Instrumentation (PXI) is an open specification governed by the PXI Systems Alliance (www.pxisa.org) that defines a rugged, CompactPCI-based platform optimized for test, measurement and control. It is supported by more than 65 member companies and more than 1,150 products are available. PXI products are compatible with the CompactPCI industrial computer standard and offer additional features such as environmental specifications, standardized software and built-in timing and synchronization. About National Instruments National Instruments (www.ni.com) is a technology pioneer and leader in virtual instrumentation - a revolutionary concept that has changed the way engineers and scientists in industry, government and academia approach measurement and automation. Leveraging PCs and commercial technologies, virtual instrumentation increases productivity and lowers costs for test, control and design applications through easy-to-integrate software, such as NI LabVIEW, and modular measurement and control hardware for PXI, PCI, USB and Ethernet. Headquartered in Austin, Texas, NI has more than 3,500 employees and direct operations in nearly 40 countries. In 2004, the company sold products to more than 25,000 companies in 90 countries. For the past six years, FORTUNE magazine has named NI one of the 100 best companies to work for in America. Pricing and Contact Information NI PXI-1036 six-slot PXI chassis Priced from $1,095 Web: sine.ni.com/nips/cds/view/p/lang/en/nid/202153 Reader Contact: Ernest Martinez, (800) 258-7022 E-mail: info@ni.com
More from Architectural & Civil Engineering Products