Six New Operator Panels Offer Universal Connectivity for Industrial Applications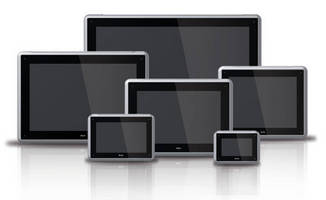 Salt Lake City, UT - Beijer Electronics, a designer and manufacturer of human machine interface (HMI) products and mobile data terminals, is pleased to offer the new TxB operator panels and TxC panel PCs, both featuring the latest iX 2.0 HMI software. This addition extends our TxA operator panel line by offering more functionality and higher performance. The TxA, TxB and TxC product families come with display sizes ranging from 4.3" to 21" and are built on different processors platforms to offer a scalable hardware solution. The newly optimized and updated iX 2.0 HMI software provides new ways to personalize an HMI application and offers universal connectivity to your devices.

"Our complete range of HMI solutions gives our customers top notch design, functionality and performance," said Michael Klein, HMI Product Manager at Beijer Electronics. "Our customers benefit from the enhanced design and navigation for large projects while operators enjoy easy usability and control."

The TxA, TxB and TxC product lines include the powerful iX 2.0 software. The user-friendly software features drivers and servers (OPC UA, web) to communicate with your automation equipment. In addition iX offers enhanced HMI functionality such as recipes, tabs, trends and alarms, scalable vector-based graphics and an open platform with .NET controls, C# scripting, SQL connectivity and WPF graphics.

The TxA operator panels are available in a 4.3", 7" and 10" display, run on an ARM9 CPU and are economically priced for small to medium-sized applications. For medium to large HMI applications, the TxB operator panels feature a 7", 12" or 15" display, an Intel® Atom(TM) 1.1 GHz processor and three 2.0 USB ports. The TxC panel PCs offer maximum graphical functionality using WPF graphics, are available in a 12", 15" and 21" display and feature an Intel® Celeron® or Core(TM) i7 processor, auto backlight dimming, four 2.0 USB ports and Windows® 7 operating system.

"The new TxB and TxC HMI terminals bring together modern design using the latest technologies in displays and electronics with easy-to-use HMI software," said Bob Mullins, Industrial Product Manager at Beijer Electronics, Inc. "We believe the TxB and TxC, along with the TxA will meet the demands of many industrial markets."

For more information about the iX product families, visit www.beijerelectronicsinc.com/product/industrial/ix_hmi_panels.php.

About Beijer Electronics

For thirty years, Beijer Electronics has designed and manufactured human machine interface (HMI) products for industrial OEMs and vehicle systems integrators. Products include automation software, operator panels, industrial/panel PCs and environmentally-rugged QSI(TM) HMIs and TREQ® mobile data terminals.

Beijer Electronics is a fast growing technology company with extensive experience of industrial automation and data communication. The company develops and markets competitive products and solutions that focus on the user. Since its start-up in 1981, Beijer Electronics has evolved into a multinational group present in twenty-one countries. Beijer Electronics is listed on the NASDAQ OMX Nordic Exchange Stockholm's Small Cap list under the ticker BELE. For more information, contact Beijer Electronics, Inc. at 801-466-8770 or visit www.beijerelectronicsinc.com.