Six-Layer Head/Die handles fluropolymers and non-fluropolymers.
Press Release Summary: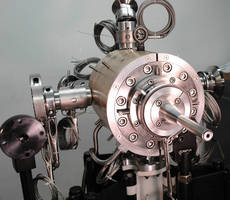 Series 800 six-layer head/die can extrude fluropolymer materials, which are resistant to fuel blends, UV, heat, and chemicals, as well as non-fluropolymers and adhesives that combine in layers of .02 mm or less with head/die tubing end products. Inner layers of device are encapsulated to avoid contamination of tubing produced. Spiral design for upstream thermal balancing creates equal flow, which results in close tolerances for thin walls and multi-layered products.
---
Original Press Release:

New Six-Layer Tooling State-of-the-Art Design for OEMs



Tube Makers Meets Peak Auto Performance with Superb Environmental Protection

Today, with less than a handful of extrusion tooling manufacturers in the world able to
engineer and market a six-layer head/die, Guill stands at the forefront of an exciting new breakthrough in money-saving extrusion technology.

Extrusion tubing manufacturers/OEMs that serve automotive applications are welcoming a new and unique six-layer head/die from Guill Tool & Engineering Co. This technology offers a host of benefits that include a lower cost for a single six-layer system
as compared to purchasing two three-layer systems or three two-layer systems that perform precisely the same function.

Other benefits of the new six-layer Series 800 include the ability to extrude
fluropolymer materials, which have superior qualities and resistance to fuel blends, UV, heat and chemicals. The six-layer can also handle non-fluropolymers and adhesives that work well when combined in thin layers (.02 mm or less) with new head/die tubing end products. With the design of the six-layer by Guill, all inner layers are totally encapsulated to avoid any possible contamination of the tubing itself.

When engineering the Guill six-layer design, computer simulations of the flow channels
using Computational Fluid Dynamics (CFD) programs allow the properties of the exact
material to be used with the exact geometry of the die. The simulations are aimed at
generating a uniform flow with even wall thickness and no weld lines.

According to Richard Guillemette, Vice President at Guill, "The six-layer's operational
advantages are the compact design with a short axial length. This minimizes residence
time, but also makes the parts lighter, and easier to handle and clean. This ensures that the material and color changes that may be required are done as quickly as possible."

Guillemette adds, "Many customers today are requesting heads with more layers and
options than before so that products meet the recent and rigorous government regulations, both domestically and internationally. These same customers are also aware that by selecting a six-layer head, instead of two- or three-layer heads, they can in most cases save money in addition to achieving the latest, best performing extrusions."

Guill's new 800 Series, which achieves both outstanding consistency and accuracy,
meets the growing demands of the automotive industry, such as for low-emission vehicles, as well as for other advanced industries-medical, pharmaceutical, cosmetics, food and more. These manufacturers often require a layered construction of tube, hose or pipe.

Major technical benefits that come with Guill's Series 800 include:

o Patented spiral engineering for upstream thermal balancing creates an equal flow,
resulting in extremely close tolerances for the thinnest walls and multi-layered,
multifaceted products.

o Split patent-pending single flow within the body of the die.

o Patented FeatherTouch design enables smooth concentricity adjustment for low-effort
concentricity without choking off the upstream and not compromising the clamping
forces necessary to create a proper seal, which can happen with most other tooling systems.

o Deflectors yield minimum chamber residence time for the extrusion material.

o Gumspace adjustment provides optimal temperature control. A recessed die-nut
enables the heater to warm the entire die area for total temperature control.

o All the deflectors and the FeatherTouch concentrically eliminate the tolerance stack-up, which reduces set-up time.

o The tip replacement installs in about one minute or less, saving money.

o Style tubing products available include smooth bore or corrugated.

o Cartridge or band heaters are available for the main extrusion die as an added option.

Today, Guill Tool also manufactures tips, dies, and breaker plates using state-of-the-art computerized CNC machining and EDM equipment. Engineering services using the latest CAD systems are available for custom-designing extrusion-tooling products: crossheads, tips, clamps, flanges, air wipes, forming rolls, spiderless inline dies, dies, swing gates, breaker plates, special equipment, and sizing dies.

Guill Tool received ISO certification in 1995, the first major extrusion tooling company worldwide to meet those international standards. The company has long been recognized as one of the leading established designers and manufacturers of custom extrusion tooling for all types of applications, including wire, cable, fiber optics, medical tube, wood composites, automotive tube, plastics compounding, custom applications, rubber, profile, industrial pipe, hose and tube, blow molding, plus food and packaging.

The company also provides education and training for the extrusion industry with plastic and aluminum model heads, fully illustrated operating manuals for step-by-step assembly and disassembly, training videotapes, as well as classes on the care and cleaning of extrusion tooling.

Founded in Rhode Island in 1962 by A. Roger Guillemette, Guill Tool was established
as a job shop that supplied tips, dies, crossheads, and replacement parts to the wire and cable, plastics, and rubber industries in New England. It now supplies the entire U.S., Canada and through representatives Guill offers worldwide distribution market.

For a free evaluation, technical product sheets, and general information-or for the
name of a representative in your area-please contact Guill Tool & Engineering Co., Inc. at 10 Pike Street, West Warwick, RI 02893 (USA). Tel: (401) 828-7600.
Fax: (401) 823-5310. Email: sales@guill.com; Guill.com.

More from Laboratory and Research Supplies and Equipment