Siphon Nozzle suits used-oil applications.
Press Release Summary: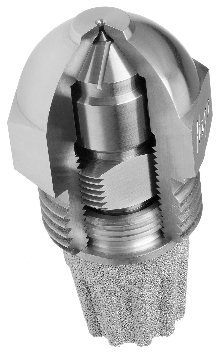 Composed of 416 stainless steel and brass stem, Siphon Air Atomizing Nozzle produces fine, solid cone spray pattern using low air consumption. Technology works by mixing air and fuel, which are separately routed to nozzle. Force of air pressure mixes with fuel within nozzle chamber to create uniform swirl of air and fuel that converges through orifice. Nozzle is suited for combustion of No. 2 and 4 fuel oils and pre-heated No. 5 and 6 fuel oils.
---
Original Press Release:
Hago Manufacturing Announces Innovative Siphon Nozzle Developed for Used Oil Applications

MOUNTAINSIDE, N.J. -- Hago Manufacturing Co., Inc., a leader in the advancement of oil nozzle technology, has introduced a nozzle for the combustion of waste oil and other variable waste oil products-- the Siphon Air Atomizing Nozzle.

Hago's Siphon Nozzle is ideal for applications that call for the finest spray particles at lower air pressures. Using low air consumption, Hago's Siphon Nozzle produces a solid cone spray pattern that is extremely fine. This nozzle is designed for the combustion of #2, #4 fuel oils and pre-heated #5 and #6 fuel oils.

The Siphon Nozzle, composed of durable materials such as 416 Stainless Steel and a Brass Stem, is an excellent choice for applications where the fuels are too viscous for direct pressure atomizing nozzles.

HAGO's advanced technology works by mixing air and fuel, which are separately and precisely routed to the nozzle. The force of air pressure mixes with the fuel within the nozzle chamber to create a uniform swirl of air and fuel that converges through the orifice providing fine atomization.

The new Siphon nozzle features: low air pressure capabilities, multiple fuel grade capability and excellent atomization. Flow rates, spray angles and droplet For more information on this and other HAGO nozzles and a technical data sheet, log on to: www.hagonozzles.com.

For more information:

Martin Lightman

VP, Sales & Marketing

Hago Manufacturing Co.

Mountainside, NJ 07092

1-800-710-HAGO

mlightman@hagonozzles.com
Related