Sinusoidal Servo Motors deliver 450 and 900 W.
Press Release Summary: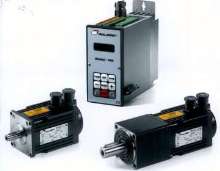 Brushless Series BS/BSE features IP65 protection, rotor with permanent NeFeBr magnets, thermal cut-out switch, and class F winding. Series BSE includes planetary reduction unit. Drivert 300 and 1000 models are digital drives with resolver and DSP technology for sinusoidal brushless servo motors. They provide dynamic control of speed, torque, and position of driving shaft. Keypad and 5-digit display are provided for programming and controlling drive without PC.
---
Original Press Release:
Expansion of the Brushless Servo-Motor Range and the New Drivert 1000

Mini Motor has recently expanded its brushless servo-motor range with models BS 80/50 and BS 80/100 and with BSE 80/50 and BSE 80/100 (with planetary reduction unit). With powers equivalent to 450 W (../50 series) and 900 W (../100 series), Mini Motor's new servo-motors are controlled by their own Drivert 1000 driver.

The range now consists of Drivert 1000 and Drivert 300, the latter controlling synchronous servomotors with wattages of up to 300W. Both Driverts are digital with resolver and DSP technology for sinusoidal brushless servo-motors. Using them you have high dynamic control of speed, torque and position of the driving shaft. Featuring 15 inputs and 8 digital outputs, 2 inputs and 2 analogue outputs, 1 input/output for simulation or encoder tracking (all l/Os are optoisolated). Keypad and 5-digit display for programming and controlling the drive without the need for a PC which, among other things, can also be interfaced thanks to serials RS232, RS485 or via the field bus CANopen (DS301/DSP402). The drive directly controls the NC 24 Vdc brake which is available, as an optional feature, for the entire range of Mini Motor brushless servo-motors. Up to 127 movement/ positioning profiles can be stored, recallable via the digital inputs. Designed for mounting on panel or inside the board.

The BSE series is designed for low-power applications in many industrial sectors and can also be supplied with lower play.

The factors that have made the BS and BSE Mini Motor brushless motors so successful are the quality of the components used, their maximum flexibility of use, high performance, precision not to mention the excellent quality to price ratio.

At present the BSE series with planetary reduction unit consists of 8 different types:BSE 35/30, BSE 35/60, BSE 45/35, BSE 45/70, BSE 55/50, BSE 55/100, BSE 80/50 e BSE 80/100. Each reduction unit is available with either 1 or 2 stages.

The BSE series flanks the BS (BS 35/30, BS 35/60, BS 45/35, BS 45/70, BS 55/50, BS 80/50 e BS 80/100) series of brushless motors which has the same basic features: IP 65 protection level (CEI EN 60529), 4-pole sinusoidal motors, enclosed, rotor with permanent NeFeBr magnets, thermal cut-out switch, class F winding according to the VDE0530 standards, feedback with resolver.

Mini Motor S.r.l.

Via Enrico Fermi, 5 - 42011 Bagnolo in Piano (RE) - Italy

Tel. +39/0522.951889 - Fax +39/0522.952610

www.minimotor.com

minimotor@minimotor.com
More from Packaging Products & Equipment