Sinker EDM Machines offer rigid construction, precision operation.
Press Release Summary: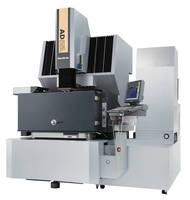 Respectively, AD35L and AD55L have X/Y/Z travels of 13.78 x 9.84 x 10.63 in. and 23.62 x 15.75 x 15.75 in. and accommodate workpiece weights up to 1,212 and 2,204 lb. Rigid linear motor drive technology used in both models enables high-speed, high-precision EDM and maintenance-free operations. No-flush EDM technology, usability-optimized control, and zero-electrode wear are also standard features. High-strength Meehanite castings are used for full-frame, floor-standing bed as well as table and column.
---
Original Press Release:

Sodick Launches Cost-Friendly Sinker EDM Models



Schaumburg, IL — The all-new AD Series Sinker EDM machines are built to meet customers' needs for cost-friendly Sinker EDM machines.  The series includes the AD35L and the AD55L high-performance Sinker EDM machines.  These linear motor driven models feature the latest no-flush EDM technology, user-friendly control and zero-electrode wear combined with increased machining speed.  Sodick's latest EDM technology advancements will ensure higher manufacturing efficiency, drastic cost reduction and shortened delivery time.



Both models include Sodick's very own rigid linear motor drive technology.  Rigid linear motor drives enable not only high-speed, high-precision EDM, but also maintenance-free operations.  With this technology, high levels of initial machining accuracy can be maintained for a long period.  This unique reliability is why Sodick provides a 10-year positioning accuracy guarantee.



The machines use a full-frame, floor-standing bed design.  Heavily ribbed, high-strength Meehanite castings are used for the bed, table and column construction.  The rigid construction ensures long-lasting accuracy.



Sodick's unique zero electrode wear technology is standard on all Sodick Sinker EDM machines.  This technology allows for the EDM machining of steel materials with virtually zero electrode wear when using graphite or copper electrodes.  Less electrode wear results in fewer electrodes, saving on production costs.  In some cases, only one electrode is necessary.  The ability to minimize wear is made possible by Sodick's advanced control technology, which stabilizes the use of extremely high discharge ON times; this reduces the amount of times the discharge is started and extinguished.  In the past, control technology was not as advanced, and the use of high discharge ON time resulted in an unstable EDM machining environment, which caused poor productivity.  Today, however, thanks to SGF technology, the application of high discharge ON time can be stabilized, producing virtually zero electrode wear.



The AD35L Sinker EDM machine has an X, Y, Z travel of 13.78" x 9.84" x 10.63" (350 x 250 x 270 mm) and can accommodate a workpiece weight of up to 1,212 lb (550 kg).  The AD55L has an X, Y, Z travel of 23.62" x 15.75" x 15.75" (600 x 400 x 400 mm) and can accommodate a workpiece weight of up to 2,204 lb (1,000 kg).



ABOUT SODICK: Sodick Inc. (www.sodick.com), established in 1976, has sold over 60,000 machines worldwide and has had over 35,000 linear motor machine deliveries.  Sodick machines are used for the production of dies and molds as well as various other applications that cannot be produced by standard machining methods.  Sodick has five ISO-certified manufacturing facilities with over 3,000 employees worldwide and technical centers located in Illinois, New Jersey and California.



For more information, contact:

Sodick, Inc.

1605 N. Penny Lane

Schaumburg, IL 60173

847-310-9000

info@sodick.com

www.sodick.com

More from Controls & Controllers