Singulate Thin Pre-Scored Panels with Close Component Spacing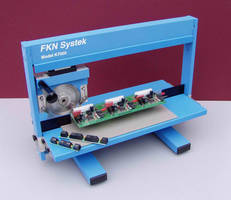 Singulating .020" pre-scored PCBs can be problematic on standard depanelizers because the boards tend to flex when placed between cutting blades. Due to the symmetrical design of the blades and the extra stiffness given to the circular blade by using two bearings, this problem is largely eliminated when using the K7000 for separating thin PCB panels.

The 12" (304 mm) long linear blade has a .030" (.762 mm) thin symmetrical cutting edge designed particularly for PCBs with closely spaced components. The circular blade is 3.8" (71 mm) in diameter and has the same cutting edge profile as the linear blade. -- .030" (.762 mm) This blade is mounted on a shaft with the center line of the cutting blade passing directly through the middle of the support bearings.

The operator places the score-line on the linear blade and pulls the circular blade carriage across the upper score-line to safely singulate a panel. Weighing in at under 20 lbs and with a footprint of 21" wide and 13" deep the K7000 is easily transportable.


More from Machinery & Machining Tools