Single-Use Sterile/SIP Connector offers genderless option.
Press Release Summary: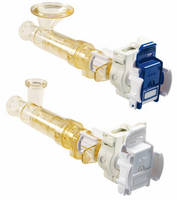 By simplifying systems integration, combined genderless AseptiQuik® G sterile connector and Steam-Thru® II SIP connector increase flexibility in process design and plant configuration for biopharmaceutical manufacturers. AseptiQuik G STC Connectors can be mounted directly to stainless steel vessel via ¾ or 1 ½ in. sanitary termination on Steam-Thru portion of connector. After the SIP cycle, Aseptic G half of connector facilitates sterile connection to single-use systems.
---
Original Press Release:

Colder Products Company Expands Integrated Single-Use Sterile and SIP Connector Offering with Genderless Option



Genderless Combination Connector Provides Flexibility for Hybrid Stainless and Single-Use Systems



St. Paul, Minn. – Colder Products Company (CPC), the leader in the design and manufacture of single-use connection technology and connectors for bioprocessing and biopharmaceutical markets, announces the expansion of its single-use sterile and Steam-in-Place (SIP) connector product offering to now include genderless capabilities. The combined genderless AseptiQuik® G sterile connector and Steam-Thru® II  SIP connector gives biopharmaceutical manufacturers increased flexibility in process design and plant configuration, simplifying systems integration, lowering overall production costs and reducing time to market.



"This new combination connector solves our customer's request to steam-in-place our popular AseptiQuik G connector directly to stainless processing equipment," said John Boehm, business unit manager, bioprocessing markets. "The genderless portion of the connector supports modular closed-system design and drives down cost by allowing the same bag system and tubing manifold SKUs s to be used on both hybrid and complete single-use systems."



The union of the two separate connection technologies into a single unit via a sanitary clamp creates a unique combination product. The AseptiQuik G STC Connectors can be mounted directly to a stainless steel vessel via either a 3/4- or 1-1/2-inch sanitary termination on the Steam-Thru portion of the connector. The SIP process can be done in advance of the final connection being made to avoid having to wait 60 minutes for SIP directly prior to feed or harvest.  After the SIP cycle, the Aseptic G half of the connector allows an easy to use sterile connection to a wide range of single-use systems without the complexity of assuring the mating connector has the appropriate male or female configuration.  AseptiQuik G STC Connectors are offered in both a standard version for gamma sterilization and a high temperature (HT) version for gamma or autoclave sterilization.



The new genderless AseptiQuik G STC Connectors are an addition to CPC's family of single-use connectors that include sterile connect and disconnect solutions. Available in a full range of 1/8- to 1-inch flow configurations, the single-use connection technology from CPC provides ease-of-use, robust construction and reliable performance for transferring valuable media for a wide range of applications including single-use bag and tubing assemblies, cell banking systems, bioreactors, mixers, sampling and formulation and filling.



CPC's bioprocessing connections are manufactured in an ISO Class 7 certified cleanroom, meet USP Class VI material standards and ADCF requirements.



To learn more about how your application will benefit from the genderless AseptiQuik G STC connector or other CPC single-use bioprocessing solutions, visit www.colder.com/bio. For information on any of the other 10,000 CPC connection solutions, please visit www.colder.com or call 800-444-2474.



About Colder Products Company

Colder Products Company is the leading provider of quick disconnect couplings and sterile connection technologies for the biopharmaceutical, medical and specialty industrial markets. For a free catalog or more information, contact: Colder Products Company, 1001 Westgate Drive, St. Paul, MN 55114. Phone: 651-645-0091. Toll-free: 800-444-2474. Fax: 651-645-5404. Web: www.colder.com/bio.



CPC, Colder Products and Colder Products Company are registered trademarks with the U.S. Patent & Trademark office.

More from Fluid & Gas Flow Equipment