Single-Use Filling System has validated multi-tubing port.
Press Release Summary: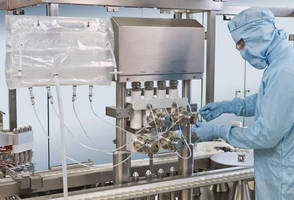 PreVAS (pre-validated, -assembled and -sterilized) single-use filling system features fully validated multi-tubing port. With PreVAS pump trolley, users gain mobile filling station that can be combined with existing filling lines. Product bag is situated outside isolator, while filling tubes are compactly and safely guided through isolator wall via multi-tubing port before being connected to filling station. This helps accelerate upgrades their existing lines to filling operations.
---
Original Press Release:

Bosch Expands PreVAS Portfolio



Pre-validated single-use filling systems from a single source

Successfully used by customers in Europe, the U.S. and China

New multi-tubing port for efficient upgrades

All key components as well as pre-tests from a single source



Crailsheim / Duesseldorf, Germany — At Interpack 2014, Bosch Packaging Technology, a leading supplier of process and packaging technology, presented the expanded portfolio of the single-use filling system PreVAS. "The existing system has been successfully introduced to the market. Now the time has come to offer our customers additional solutions for their existing line concepts and to consequently extend our portfolio," Klaus Ullherr, product manager at Bosch Packaging Technology said. The name PreVAS stands for pre-validated, pre-assembled and pre-sterilized single-use filling systems, which Bosch Packaging Technology has developed in cooperation with Sartorius Stedim Biotech (SSB).



Fast and economic upgrades

Since the official launch in 2012, PreVAS has been successfully established in the market and is used by customers in Europe, the U.S. and China, who produce in accordance with strict GMP guidelines and FDA regulations. "As with every successful system, the development of PreVAS is also never fully completed. We constantly work on developing new approaches for specific customer requirements," Ullherr explained. With the PreVAS pump trolley, customers now receive a mobile filling station, which can be flexibly combined with existing filling lines. In this version, the product bag is situated outside of the isolator, while the filling tubes are compactly and safely guided through the isolator wall via the newly developed multi-tubing port, before being connected to the filling station. "Customers can now quickly and economically upgrade their existing lines to filling operations with PreVAS," Ullherr said.



Comprehensive pre-validation

Just like the entire single-use filling system, the multi-tubing port is also fully validated. Prior to its market launch, PreVAS was tested and validated under realistic conditions for one year. Amongst others this included performance tests for filling accuracy, biocompatibility tests, extractable and leachable studies as well as particle tests. "Our customers receive all key components from a single source – bag, pump and tubing, as well as filling needles. Combined with comprehensive validation and technical support for upgrades, PreVAS answers the requirements of the pharmaceutical and biopharmaceutical industry for higher filling accuracy as well as safe and flexible solutions for simple and quick product changes," Ullherr concluded.



Contact:

Klaus Ullherr,

phone: +49 7951 402-517



Based in Waiblingen near Stuttgart, Germany, and employing 5,600 associates, the Bosch Packaging Technology division is one of the leading suppliers of process and packaging technology. At over 30 locations in more than 15 countries worldwide, a highly-qualified workforce develops and produces complete solutions for the pharmaceuticals, food, and confectionery industries. These solutions are complemented by a comprehensive after-sales service portfolio. A global service and sales network provides customers with local points of contact.



Additional information is available online at www.boschpackaging.com



The Bosch Group is a leading global supplier of technology and services. In 2013, its roughly 281,000 associates generated sales of 46.1 billion euros. (NB: Due to a change in accounting policies, the 2013 figures can only be compared to a limited extent with the 2012 figures). Its operations are divided into four business sectors: Automotive Technology, Industrial Technology, Consumer Goods, and Energy and Building Technology. The Bosch Group comprises Robert Bosch GmbH and its roughly 360 subsidiaries and regional companies in some 50 countries. If its sales and service partners are included, then Bosch is represented in roughly 150 countries. This worldwide development, manufacturing, and sales network is the foundation for further growth. In 2013, the Bosch Group invested some 4.5 billion euros in research and development and applied for some 5,000 patents. This is an average of 20 patents per day. The Bosch Group's products and services are designed to fascinate, and to improve the quality of life by providing solutions which are both innovative and beneficial. In this way, the company offers technology worldwide that is "Invented for life."



Further information is available online at www.bosch.com and www.bosch-press.com, http://twitter.com/BoschPresse.

More from Fluid & Gas Flow Equipment