Single Station System offers part deburring and cleaning.
Press Release Summary: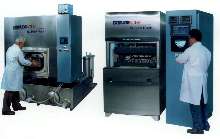 Model EC-20-1 combines Electrolytic Deburring/Edge Finishing/Contouring system and Aqueous Cleaning system. Both are modular and constructed with stainless steel and non-corrosive materials. In combination, systems provide accurate deburred, edge finished or contoured parts that are aqueous-cleaned and dried. Multiple fixtures are provided for load/unload parts handling. Finished parts can be of virtually any metal or alloy.
---
Original Press Release:
EC-20-1 Single Station System

SurfTran Manufacturing Co., L.L.C., subsidiary of ExtrudeHone-
Madison Heights, Michigan- builders of advanced Deburring and
Cleaning Systems, provides a combination of an Electrolytic
Deburring/Edge Finishing/Countouring system and a Aqueous
Precision Cleaning system for production environments.

Both systems are compact and modular in design, and are
constructed with stainless steel and non-corrosive materials.
In combination the systems provide accurate deburred, edge
finished or contoured parts- plus aqueous precision cleaned
and dry parts ready for delivery.

The EC-20-1 single station system has multiple fixtures for
efficient load/unload parts handling for its deburring, edge
finishing and contouring operations. The parts receive a positive charge from anode contacts mounted on the upper moving part of the fixture, Material is selectively removed from positively charged parts when electrolyte is flushed between it and a negatively charged cathode. There is no contact between the tool and the part, resulting in no mechanical or thermal stress or tool wear, a self-contained wash tray finishes the cycle.

The finished parts are loaded into a stainless steel basket
and is transferred to the Precision Aqueous Cleaning system,
the system shown is SurfTran's STORM. Which has a single sealed
processing chamber where the process comes to the parts not
vice versa. The STORM's functions include wash, rinse, heated
deionized water rinse, jet spray, immersed turbojet spray, hot
air drying with a 750CFM Paxton supercharger which produces
40kW of forced hot air induction and optional 4,500W ultrasonics
with 50W of action per gallon and vacuum shock drying for spot
free parts.

The finished, clean and dry parts processed can be of virtually
any metal or alloy, ready for assembly or delivery.

SurfTran builds Electrolytic Series 20 systems that range from
a single station to totally automatic machines, Thermal Energy Method (TEM) deburring/deflashing systems, aqueous precision
cleaning and general washing systems.

Send inquiries directly to:

SurfTran Manufacturing Co., L.L.C.

30250 Stephenson Highway

Madison Heights, MI 48071

Attention: Craig Beeghly

Phone 248-547-3133

Fax 248-547-0206
More from Packaging Products & Equipment