Single-Station CNC Vises feature one-piece body, stationary jaw.
Press Release Summary: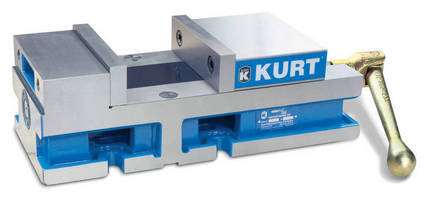 With one-piece body and stationary jaw design, VersatileLock® Vises provide rigid clamping with 0.0005 in. repeatable accuracy. There are 12 models, available in manual, air, and hydraulic versions, designed to handle range of part clamping applications. AngLock® feature and pull-type clamping design reduce stationary jaw deflection. Respectively, clamping forces for models 3600 (manual) and 3600H (hydraulic) are 6,356 lb at 80 lb of input torque and 12,600 clamping force at 3,200 lb of input psi.
---
Original Press Release:

Kurt's VersatileLock® Vises Feature One-Piece Body And Stationary Jaw Design - Provides Precise 0.0005 Inch Part Clamping Repeatability - 12 Models Available in Manual, Air and Hydraulic Versions



Minneapolis, Minnesota: Kurt's VersatileLock® Vises feature one-piece body and stationary jaw design providing rigid, precise clamping with 0.0005 inch repeatable accuracy. 12 models are available in manual, air and hydraulic versions to handle a full range of part clamping applications.



Considered the industry's ultimate single station CNC vise, Kurt's VersatileLock vises integrate Kurt's proven AngLock® feature with the pull-type clamping design. Together, these features reduce stationary jaw deflection by as much as 80 percent. The one-piece body and stationary jaw provide greater strength while reducing weight.



The AngLock and pull type clamping design prevent parts from lifting upward under heavy clamping loads. A hardened spherical segment mechanism produces "all directional" alignment of the jaw components and vise body so clamped parts remain stationary for accurate machining operations at all times.



VersatileLock features include clamping force for the model 3600 manual model of 6356 lbs at 80 lbs of input torque. The model 3600H hydraulic model delivers 12,600 clamping force at 3200 lbs of input PSI.



Available in manual, hydraulic and air-operated models, VersatileLock vises are also available in reverse and short reverse configurations. The short version model has a 13 inch footprint ideal for the smallest machines. Models are designed and precision machined for mounting upright or on either side. All models have matched stationary jaw to the keyway including a body height  ±0.001 inch. Another important feature - two VersatileLock vises can be mounted back-to-back making a fast, easy and economical tombstone fixture.



Ideal for precision part clamping on most model machining centers, mills and grinders, these Kurt VersatileLock vises have durable 80,000 PSI ductile iron bodies with precision machined components. Their robust design provides rugged strength, extra rigidity and long-term accuracy while absorbing machining vibration. All Kurt VersatileLock vises are backed by Kurt's lifetime "Iron Clad™" warranty for workmanship and materials.



"Kurt will unveil several exciting new vise and workholding products at IMTS 2014," reports Steve Kane, Kurt's global sales and marketing manager. "Be sure to see what's new including VersatileLock at the machine tool industry's biggest show ever in September."



See complete VersatileLock photos, drawings and specifications for all 12 models at www.kurtworkholding.com  Or call for FREE brochure in USA toll free 877-226-7823. Outside USA 763-574-8309.

Email: workholding@kurt.com.

Mailing Address: Kurt Manufacturing Industrial Products Division, 9445 East River Road NW, Minneapolis, Minnesota 55433

More from Material Processing