Single-Slot 3U Digitizers are PXI and CPCI compliant.
Press Release Summary: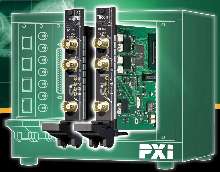 Delivering respective bandwidths of 1 GHz and 500 MHz, PXI digitizers DC140 and DC135 provide high-speed waveform recording solutions with channel multiplexing capability. Model DC140 provides synchronous sampling on both input channels of 1 GS/s with up to 8 Mpoints of acquisition memory. Model DC135 offers dual-channel sampling rates to 500 MS/s and 2 Mpoints of acquisition memory per channel. Both products suit single- and dual-channel applications.
---
Original Press Release:

Acqiris Sets New Standard for 3U Single-Slot High-Speed PXI Digitizers


Monroe, NY, June 2004 - Acqiris USA, a leading manufacturer of data conversion instruments, has introduced 3U single-slot PXI digitizers that provide high-speed waveform recording solutions for use in any PXI and CompactPCI® chassis. The new DC140 and DC135 digitizers deliver very high bandwidths, 1 GHz and 500 MHz respectively, and offer a convenient channel multiplexing capability, which allows users to select between single- or dual-channel data acquisition modes, effectively doubling the available sampling rates and acquisition memory.

The digitizers are fully compliant with both the PXI and CompactPCI standards, and are ideal for integration with complementary instrumentation modules for fast single- and dual-channel applications, including telecommunications, ATE, lidar, radar, semiconductors, ultrasonic, mechanics, and physics.

The DC140, with 1 GHz of bandwidth, provides synchronous sampling on both input channels of 1 GS/s with up to 8 Mpoints of acquisition memory; in single-channel applications this doubles to 2 GS/s and 16 Mpoints. The DC135 similarly offers dual-channel sampling rates of up to 500 MS/s and 2 Mpoints of acquisition memory per channel, or 1 GS/s and 4 Mpoints in single-channel mode, with 500 MHz of bandwidth. It is the perfect solution for cost-effective dual-channel measurements on signals up to a frequency of 500 MHz. With synchronous ADC sampling, well-matched front-end electronics, and a precision time base (±2 ppm), the digitizers are able to perform significant cross-channel timing measurements including jitter, phase, and propagation delay.

The digitizers' long acquisition memories are essential for maintaining fast sampling rates, and therefore good timing resolution. For example, in single-channel mode, the DC140 with 16 Mpoints of memory can record a signal over an 8 ms period with a sampling rate of 2 GS/s (0.5 ns per point). This fast sampling rate ensures that all high-frequency signal components, up to the full bandwidth of the digitizer, are accurately recorded. If the memory were reduced to 20 kpoints, the sampling rate would have to fall to just 2.5 MS/s to acquire for the same duration (8 ms). Frequencies above 1.25 MHz would then be incorrectly digitized and important events might be missed completely.

Both digitizers include the Acqiris Ctrl I/O, a unique front-panel system that simplifies system integration and facilitates synchronization with existing customer systems. Consisting of four MMCX-type connectors on the front panel, Ctrl I/O provides an external clock input, a trigger output, and two digital control lines.

With optional frequency counter firmware (DC140/DC135-FC), the DC140 and DC135 digitizers can be used to perform real-time frequency measurement at up to 400 MHz. For user selectable intervals in the range 1 ms to 1000 s, it is possible to extract the average frequency, signal period, or measured number of periods in the range of 1 to over 4 billion (232). The optional firmware can also be used to add up the number of periods occurring during a user-defined gate interval.

The digitizers come complete with all necessary software, including AcqirisLive, a digitizer control program that enables them to operate "out-of-the-box", and associated driver libraries. The digitizers are fully programmable and run under Microsoft Windows 95/98/2000/NT4/XP, Linux, and VxWorks operating systems. In addition, they can be used with off-the-shelf software packages such as National Instruments' LabWindowsTM/CVI, LabVIEWTM and The Mathworks' MATLAB®.

Pricing for the new 3U PXI DC140/135 digitizers begins at $6,990. Delivery of the DC135 is 8 weeks ARO; delivery details of the DC140 are available on request.

For more information, please visit acqiris.com/Products/Digitizers/index.jsp or contact Klaas Vogel, Acqiris USA, P O Box 2203, 234 Cromwell Hill Road, Monroe, NY 10950; Tel: (877) 227-4747; Fax: (845) 782-4745; e-mail: klaas.vogel@acqiris.com

About Acqiris: With US headquarters in Monroe, NY and corporate headquarters in Geneva, Switzerland, industry-leader Acqiris SA designs and manufactures modular waveform acquisition and analysis products for the electronics test and measurement, physics, ATE and OEM markets. Products include PCI and PXI/CompactPCI, 8- and 12-bit digitizers, averagers, and peak analyzers with Gigasample/second performance. Further company details including worldwide sales and service location are available at: www.acqiris.com.

More from Services