Silicon Controlled Rectifiers (Thyristors)
Single-Port Fixed Voltage Thyristors protect SLICs.
Press Release Summary: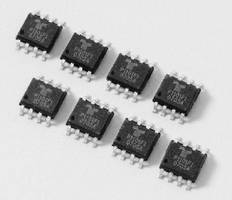 Designed to optimize reliability of telecom equipment, Pxxx1DF-1 and Pxxx1DF-1E Series SIDACtor® devices protect sensitive Subscriber Line Interface Circuits from damaging overvoltage transients caused by lightning and AC power faults. Thyristors' fixed-voltage switching device protects against both positive and negative induced surge events without additional external components. Units help OEMs meet or exceed Telcordia GR-1089 Issue 4 or 5, and ITU Recommendations K.20, K.21, K.44, and K.45.
---
Original Press Release:

Littelfuse Introduces Pxxx1DF-1 and Pxxx1DF-1E Series Fixed Voltage Protection



CHICAGO, Illinois, - Littelfuse, Inc. (NASDAQ/NGS:LFUS) has introduced two new series of SIDACtor devices that protect sensitive SLICs (Subscriber Line Interface Circuits) from damaging overvoltage transients caused by lightning and AC power faults. The Pxxx1DF-1 and Pxxx1DF-1E Series Fixed Voltage Protection SIDACtor® devices enhance the reliability of telecom equipment by providing single-port (both tip and ring) protection in a single package.

Unlike programmable solutions, the new series do not require a large and costly gate capacitor, and offer complete single-port overvoltage protection with a single device. The series use a fixed-voltage switching device to protect against both positive and negative induced surge events without the need of additional external components.

The series are a cost effective overvoltage-protection solution for telecom equipment OEMs that design and/or build equipment that utilizes SLIC chipsets. The series help equipment manufacturers meet or exceed global regulatory standards such as Telcordia GR-1089 Issue 4 or 5, and ITU Recommendations K.20, K.21, K.44, and K.45.

The new SIDACtor devices will be of interest to any telecom OEM or manufacturer that designs or builds equipment that utilizes SLIC chipsets such as voice line cards, integrated access devices, multi-service access network equipment, VoIP (voice over IP) phones, STB, and VoIP terminals and gateways.

Part of the SLIC (Subscriber Line Interface Circuit) Protection family of SIDACtor products, the new devices have many features and benefits. The surface-mount MS-012 package has a small footprint. The pin-to-pin footprint is compatible to industry-preferred programmable SO-8 package SLIC. The devices have a low overshoot voltage during surge events, fail short-circuit when surged in excess of ratings, and they do not degrade in use.

The Pxxx1DF-1 and Pxxx1DF-1E Series Fixed Voltage Protection SIDACtor® devices are RoHS compliant and comply with the following global standards:

TIA-968-A

ITU K.20/21 Basic & Enhanced (series resistance required)

GR 1089 Inter/Intra-Building

IEC 61000-4-5

YD/T 1082

YD/T 993

YD/T 950

UL Recognized

Availability

The Pxxx1DF-1 and Pxxx1DF-1E Series offer a broad range of fixed-voltage devices to address multiple battery voltages and cover a wide variety of SLIC applications. Available in the industry standard MS-012 8-pin SOIC, tape and reel, 2500 packaged quantity.

For More Information

For more information about the Pxxx1DF-1 and Pxxx1DF-1E Series Fixed Voltage Protection SIDACtor® Devices, please visit the Littelfuse web site at www.littelfuse.com or contact your local Littelfuse Technical Support expert.

Product page:

http://www.littelfuse.com/products/SIDACtor%26reg%3B+Protection+Thyristors/Fixed+Voltage/PxxxxDF-1.html?cm_mmc=ThomasNet-_-thomasnet.com-_-News%2FPress+releases-_-Pxxx1DF-1+and+Pxxx1DF-1E+Series

More from Agricultural & Farming Products