Single-Pole Toggle Switches have modular wiring system.
Press Release Summary: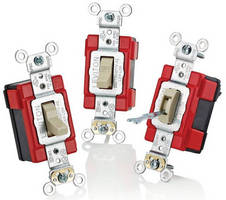 Lev-Lok® 15 and 20 A, 120/277 V switches are heavy-duty solutions available in traditional toggle, illuminated toggle, and tamper-resistant versions. All employ twist and lock modular wiring system, accelerating installation while ensuring safe, reliable connection. Protective cover prevents debris from entering contacts until module is connected to switch. While finger grips facilitate installation, factory-installed circuit ID label aids in device location identification.
---
Original Press Release:

Leviton Expands Lev-Lok® Line of Modular Wiring Devices with Specification Grade Single-Pole Toggle Switches



Revolutionary lock and latch wiring module design speeds installation in high-traffic areas

Melville, New York -- Leviton has expanded its commercial /industrial line of Lev-lok® modular wiring devices with the addition of 15 amp and 20 amp, 120/277 volt single-pole toggle switches. The extra heavy-duty specification grade switches are available in traditional toggle, illuminated toggle and tamper-resistant versions, and employ Leviton's unique twist and lock modular wiring system. This system speeds installation and ensures a safe, reliable connection.

Lev-lok modular switches consist of a wiring module with wire leads and specification grade 15 or 20 amp switch. The module's protective cover prevents debris from entering the contacts until the module is connected to the switch. Finger grips on the module ease installation and a factory-installed circuit ID label makes it easy to identify device locations once installed. To install, users simply place the wiring module over the switch's solid brass terminal posts, twist it clockwise and the switch is securely locked in place to the module. Solid brass terminal posts on the switch and the double-latch design ensure a strong, secure connection to the wiring module.

Lev-Lok's revolutionary modular switch system addresses the reliability and performance concerns of specification engineers without sacrificing the contractor's need for fast, easy installation. With only one way to orient the wiring module, the Lev-lok switch cannot be mis-wired or installed incorrectly. Lev-lok's wire leads always mate to the same terminal posts during installation or replacement.

Lev-Lok switches are ideal for new construction, large facility additions and retrofits, especially where meeting a tight completion deadline is critical. For fast replacement, installers simply turn the wiring module counter-clockwise and unlock the module from the switch's terminal posts.

Lev-lok switches are available in a wide range of colors and are available with color-coded switch covers (blue for 15 Amp, red for 20 Amp) for easy identification of amperage rating. Lev-lok switches are UL listed, CSA and NOM certified and RoHS compliant. They come with a Ten Year Limited Warranty.

About Leviton

Leviton is a global leader in electrical wiring devices, data center connectivity solutions and lighting energy management systems. A member of the USGBC (United States Green Building Council), Leviton was founded at the turn of the 20th century, and has grown to become a preeminent leader in the industry. Today Leviton's product portfolio consists of over 25,000 devices and systems used in homes, businesses and industry. Nine out of ten buildings and homes throughout North America use products made by Leviton and builders, electrical contractors and other industry professionals rank Leviton products #1 in brand preference. Leviton products are the smart choice for smart professionals. For more information contact Leviton Manufacturing or visit leviton.com.