Single-Piece HDPE Closure fosters PCO 1881 standard conversion.
Press Release Summary: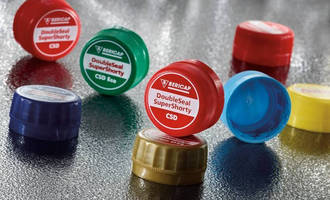 Intended for use on single- and multi-serve plastic bottles, one-piece DoubleSeal(TM) 1881 SuperShorty® closure weighs 6.22 g and features 2-in-1 Outer plus Inner seal that eliminate concerns over CO2 retention and bottle neck distortion. Closures provide lateral, opposing-force pressure from outside and inside to effectively support neck. Made with HDPE (High Density Polyethylene), products can fit into existing operations.
---
Original Press Release:
BERICAP SuperShorty® Closure Helps Drive Market Conversion to a New Global Lightweight Plastic Bottle Finish Standard
New-generation, one-piece BERICAP DoubleSeal(TM) technology achieves weight savings of 20% in the closure and bottle finish Toronto, Canada - The recently developed global industry standard for a lighter weight thread finish on single and multi-serve plastic bottles - designated PCO 1881 - is rapidly being adopted by bottlers of carbonated soft drinks (CSD) throughout North America. BERICAP has just successfully converted its 30th filling line from traditional two-piece closures to its one-piece DoubleSeal(TM) 1881 SuperShorty® closure. Globally, BERICAP has worked with bottlers to convert over 100 filling lines to the new 1881 standard with additional conversions already scheduled. The transition brings a weight reduction of 20% in the dispensing system (the closure and the finish, the area that the closure is applied to on a bottle). Traditional 1810 systems weigh 8.0 g while the new 1881 system is just 6.22 g. "Adopting the new standard takes millions of pounds of plastic out of the packaging," observes Dave Andison, President and COO of BERICAP North America. "This means significantly fewer resources are needed to manufacture and distribute product, leading to a reduced carbon footprint and multiple, ongoing sustainability advantages. The industry will realize savings, as will the planet." BERICAP plays key role in developing a global industry standard Developed by the International Society of Beverage Technologists (ISBT), which represents more than 800 beverage industry professionals in over 21 countries, PCO 1881 is the first new CSD finish standard in about 20 years, according to Andison. "It is truly an industry-wide collaborative effort. Beverage manufacturers, bottlers and suppliers agreed that significant weight could be taken out of the thread area of soft drink bottles, then worked together to define specifics and gain acceptance." BERICAP North America's Terry Rochfort co-chaired the ISBT subcommittee for this international undertaking, a three-year effort which generated specifications that now are being voluntarily implemented globally. In North America, about 70% of bottler lines have already been converted to the new standard. "Shepherding this new standard through the development and approval process is a tremendous achievement," Andison remarked. "Its rapid, industry-wide acceptance reflects the success of ISBT developers in focusing on material and weight reduction, while retaining other important package attributes in production and consumer acceptance." One of the most critical issues with CSD is a tight closure seal to keep CO2 locked in, so the beverage doesn't go flat. Another concern for bottlers is distortion of the neck during closure application, which can lead to as much as 2% or more of rejected product. BERICAP's SuperShorty® with exclusive DoubleSeal(TM) technology resolves both of those issues. Lighter weight finish a key to DoubleSeal(TM) SuperShorty® advantages Andison notes, for example, that two-piece liner-and-shell top seal closures demand a significant amount of torque to properly seal containers. "The resulting down-pressure is what causes the neck to ovallize (distort), which in turn can lead to leaking and contamination. Thus, it requires a heavier finish. This technology can offer similar benefits with hotfill applications, where the heat softens the neck by utilizing a different finish design." While thicker, heavier finish sidewalls under the old standard helped to combat this problem to a limited degree, lighter-weight necks using the PCO 1881 standard should make matters worse. Not with BERICAP's DoubleSeal(TM) SuperShorty® closure, however. DoubleSeal(TM) SuperShorty® features BERICAP DoubleSeal(TM) technology, a 2-in-1 Outer plus Inner seal in a single piece, liner-less closure. Instead of down-pressure during the sealing process, DoubleSeal(TM) closures provide lateral, opposing-force pressure from both the outside and inside, effectively supporting instead of distorting the neck. "The DoubleSeal(TM) SuperShorty® closure and the bottle finish fit together like pieces in a puzzle," Andison explains. "You don't have to force it. This results in a tighter, more-secure seal to better retain carbonation." More plusses with SuperShorty closures, injection-molded from HDPE Made with HDPE (High Density Polyethylene) rather than PP (Polypropylene) that is used in typical two-piece closure shells, DoubleSeal(TM) SuperShorty® caps also offer cost, supply and environmental advantages, too. "Historically, Polypropylene costs more than HDPE, a difference that is almost certain to continue," Andison points out. "While HDPE comes from cracking natural gas with ample available feed stocks in North America, PP comes from cracking liquid, and is constantly competing with gasoline for access to supplies. At the other end of the spectrum, two-piece polypropylene closures also contain other materials, posing more of a challenge to the recycling stream where mono-material products are much preferred." In terms of closure performance and use, the injection molding process itself also contributes to quality assurance for DoubleSeal(TM) SuperShorty® closures, says Andison. "Unlike compression molding two-piece closure shells, injection molding provides much more control over critical features, ensuring dimensional stability and the integrity of every cap." Smooth transition and line performance, with fewer cocked caps "Our PCO 1881-compatible DoubleSeal(TM) SuperShorty® system fits smoothly into existing operations," Andison continues. "We work very closely with bottlers, pre-auditing lines to identify changes that need to be made, and to help make sure that those changes are made before converting to DoubleSeal(TM) SuperShorty®, in order to ensure proper application and efficient line performance." An area in which on-site BERICAP specialists particularly focus is capper setup. "Correct cam selection and settings can virtually eliminate another frequent production issue on traditional lines: cocked caps," says Andison, "Figures show that, after conversion to SuperShorty, cocked cap rates can drop to fewer than one per 100,000 (0.00001) - less than one one-thousandths of a percent." "We're working with all the major bottlers to help transition lines to the new standard, along with the added advantages of DoubleSeal(TM) SuperShorty® closures. Depending on customer preferences for external appearance, and the beverage being bottled, we offer half a dozen SuperShorty® variants. This includes light weight closures for still water, as well as advanced tamper evidence (ATE) options or a specific design for beer closures that are equipped with an oxygen scavenger to protect the beer from oxidation. "In addition to DoubleSeal(TM) SuperShorty®, we began supplying major North American bottlers with PCO 1881-compatible Sportscap PushPull closures for 24 oz. containers earlier this year," Andison said. "We're also commercializing a PCO 1881-compatible ThumbUp(TM) closure in Europe. It's all about helping bottlers make the most of lighter weight containers driven by the new PCO 1881 standard, while enhancing production line performance with superior closure technology." BERICAP is a leading global supplier of plastic closures, with annual sales of nearly $750 million and 20 manufacturing facilities in 18 countries. The company produces 56 billion plastic closures per year for a wide range of consumer packaged goods, commercial and industrial products. Find additional details on BERICAP and its products at www.bericap.com. For more information, contact The Drucker Group - Bob Wolff (224) 532-1808.
More from Electrical Equipment & Systems