Single-Phase Soft Starter reduces startup current but not torque.
Press Release Summary: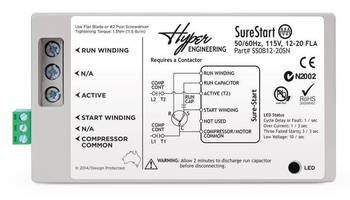 Reducing startup current while providing full start torque, SureStart soft starts single-phase compressors/motors and automatically adjusts to cover 1.75–7 hp range. Housing facilitates installation, and cover allows access to internal wiring lead terminals. Along with terminal block that uses flat-blade screws for lead connection, features include diagnostics; double-insulated, flame-retardant enclosure; and software that enhances starting capabilities in unsteady voltage conditions.
---
Original Press Release:
Hyper Engineering Announces Upgrade to SureStart Soft Starter
Fort Wayne, IN – Hyper Engineering, a designer and manufacturer of single phase and three phase electronic software-driven soft starters, announces an upgrade to its SureStart single phase soft starter.

The SureStart single phase product upgrade includes diagnostic features as well as an updated housing for easier installation. These changes include the following:

Upgraded terminal block that now uses standard flat-blade screws for better lead connection
Software upgrade for enhanced starting capabilities in unsteady voltage conditions
LED port-hole to display unit fault for easy troubleshooting
Cover modification for better access to internal wiring lead terminals

The SureStart single phase soft starter has been developed specifically to soft start large single phase compressors and motors. It provides a dramatic reduction in the starting current, but still provides full start torque. It will automatically adjust itself to cover the range of 1.75 to 7 hp. It is fully self-contained in a conveniently small, double insulated and flame retardant enclosure.

A soft start device provides other benefits in addition to reducing inrush current and torque. It can reduce or completely eliminate the noise and light flicker associated with the startup of the compressor. Other sensitive electronic equipment also benefit from the minimizing of supply voltage drop experienced during compressor startup. Because of the dramatic reduction in startup current, it also becomes much easier and sometimes less expensive to match the air conditioner or heat pump with "off grid" power sources, such as generators, solar panels and windmills.

To learn more, visit www.hypereng.com.

More Information:

Hyper Engineering was established in 1986 in Australia. In 2011, a location in the USA was added. We are the innovator of the original electronic software-driven soft starter. Specializing in customized soft start solutions, we have evolved and offer over 90 different models for diverse applications across the globe. Worldwide, there are over 250,000 Sure-Start soft starters installed. The current Sure-Start model is sold throughout Australia, China, Europe, and the United States with UL approval and is CE and RoHS compliant. Sure-Start was developed to allow the starting of single phase compressors and electric motors (up to 7 HP - 50/60Hz) and has moved into three phase electric motors (up to 25 HP – currently just in 50Hz) because of many customer requests. Hyper Engineering is constantly developing new products and is interested in hearing customer suggestions on developing additional products that fit their demands and needs.

Related links:

Hyper Engineering: http://www.hypereng.com/index.html

Single Phase Soft Starters: http://www.hypereng.com/single_phase.html

Three Phase Soft Starters: http://www.hypereng.com/three_phase.html
Related