Single Phase Industrial Vacuum Cleaners are NRTL approved.
Press Release Summary: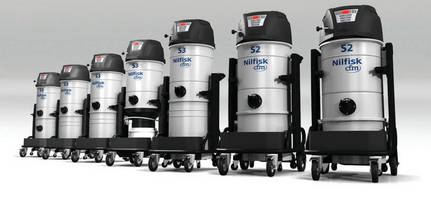 Featuring electronic keypad with LED indicators that monitor performance of main and HEPA filters, 2-motor S2 comes with 13 gal collection container, while S3, 3-motor machine, is available with 26 gal collection capacities. They include manual filter shaker, oversized handle, accessory storage tray, and cable holder. Both lines of vacuums can be equipped with multi-stage filtration, including optional HEPA filter to capture 99.97% of particulate, down to and including 0.3 microns.
---
Original Press Release:

NILFISK CFM Announces the Next Generation of Industrial Vacuum Cleaners



The S2 and S3 Line of Vacuums Offer User-Friendly Features and Ergonomic, Modular Design

Malvern, PA, - Nilfisk CFM, one of the world's leading industrial vacuum manufacturers, has launched the next generation of their most popular single-phase industrial vacuum cleaners. The S2 and S3 line of vacuums feature strong, solid construction and cutting-edge innovations such as an electronic keypad with LED indicators that monitor the performance of the main and HEPA filters.

Designed to meet a wide range of industrial cleaning challenges, the two-motor S2 comes with a 50 liter (13 gallon) collection container, while the S3, three-motor machine, is available with 50 or 100 liter (26 gallon) collection capacities. Extremely ergonomic, these vacuums feature a modular design for easy modifications, upgrades and servicing. The NRTL-approved S2 and S3 can be equipped with multi-stage filtration, including an optional HEPA filter to capture 99.97% of particulate, down to and including 0.3 microns. Other features include:

o Manual filter shaker to quickly clean the main filter, keeping performance high

o Oversized handle for easy push or pull transport

o Accessory storage tray and cable holder

o Liquid and Solid Level LED sensors (100 L machines only) that automatically shut-off the machine when maximum capacity is achieved.

The S2 and S3 line is available with many different options, including the Longopac®, a collection system which allows materials to be captured in a continuous bag that once filled can be cut, disposed and immediately restored for a new use. Other options include stainless steel construction, automatic filter cleaning systems, and a variety of different types of filters, hose and accessories.

For more information on the new S2 and S3 industrial vacuum cleaners from Nilfisk CFM, visit www.nilfiskcfm.com or call 1-800-645-3475.

Nilfisk CFM, the industrial vacuum division of Nilfisk-Advance America, helps its industrial customers meet their individual cleaning requirements and challenges with an extensive range of high-performance vacuum cleaners. From its Malvern, PA headquarters, the IVAC division provides industrial vacuums for heavy-duty applications that require maximum suction power; and specialty vacuums for clean applications that demand "absolute" air purity and facility cleanliness. The company's vacuums are equipped with industry-specific features and exceptionally efficient filtration systems, ensuring dust- and debris-free facilities in the food, chemical/pharmaceutical, electronics, metalworking/powder coating, and a variety of manufacturing industries. www.nilfiskcfm.com.

Contact:

Rachel Brutosky

Nilfisk CFM

(610) 232-5469

Rachel.Brutosky@nilfisk-advance.com

More from Software