Single-Leaf Suspension Spring eliminates interleaf friction.
Press Release Summary: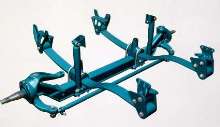 Offered in axle-rated capacities of 8,000, 10,000, and 12,000 lb, SSR MONOLEAF(TM) features parabolic design that delivers optimal balance of spring rate, stress, and weight. Compared to conventional springs, SSR MONOLEAF spring geometry minimizes shackle movement, enabling shackle-stop technology to integrate axle alignment redundancy feature. Rubber bushings minimize noise and need for maintenance.
---
Original Press Release:

Hendrickson Debuts Heavy-Duty, Single-Leaf Front Truck Suspension Spring


WOODRIDGE, Ill. - And then there was one - Hendrickson continues the weight saving evolution of the front truck suspension spring with the introduction of the SSR MONOLEAF(TM).

Pioneering the three-leaf spring in the 1960's and two-leaf springs in the 1980's, Hendrickson formed innovative designs to maintain strength and durability while reducing weight by eliminating leaves. That culminates with the SSR MONOLEAF, which delivers a front suspension weight savings of some 40 pounds compared to a traditional two-leaf spring in 12,000-pound capacity arrangements.

Offered in axle-rated capacities of 8,000, 10,000 and 12,000 pounds, SSR MONOLEAP further enhances weight savings when paired with Hendrickson's proven STEERTEK fabricated steer axle - a combination that can trim 70 pounds compared to a traditional two-leaf spring on a forged I-beam axle.

In addition to providing fleets and owner operators with expanded cargo capacity, SSR MONOLEAF's parabolic design delivers an optimal balance of spring rate, stress and weight for an outstanding ride.

Highly-processed material and sophisticated manufacturing techniques help ensure long service life, and rubber bushings help reduce maintenance and noise. SSR MONOLEAF eliminates interleaf friction to improve ride characteristics.

Compared to conventional springs, SSR MONOLEAF spring geometry minimizes shackle movement, therefore enabling our patent pending shackle-stop technology to integrate the axle alignment redundancy feature.

With SSR MONOLEAF, Hendrickson continues to pioneer leading-edge spring technology for the commercial vehicle industry. Designing and manufacturing leaf springs for heavy-duty transportation applications since 1920, Hendrickson builds on decades of engineering innovation to improve ride and spring quality, reliability and performance.

Hendrickson stands as the world's leading supplier of heavy-duty springs, producing nearly half of all flat-leaf springs and three-quarters of all parabolic taper-leaf springs for medium-duty and heavy-duty commercial vehicles.

Combining SSR MONOLEAF with STEERTEK achieves a best-in-class mechanical front suspension with additional benefits compared to conventional configurations using common industry forged axles.

STEERTEK helps improve tire life with a box-design axle that provides stiffer axle resistance to vertical and longitudinal loads. The stiffer axle reduces dynamic variation in toe and camber providing a more consistent tire contact pattern.

Its two-piece knuckle assembly allows removal of knuckle without removing the kingpin. Steering and tie rod arms integrate for increased strength and reduced weight.

For additional information on SSR MONOLEAF, contact Hendrickson Spring at 519-271-4840.

Hendrickson International is one of the largest global suppliers of truck and tractor suspensions, trailer suspensions, truck and trailer lift axles, springs and bumpers to the commercial transportation industry. Headquartered in Woodridge, Ill., Hendrickson has been meeting the needs of the transportation industry for more than 90 years. Visit the Hendrickson website at www.hendrickson-intl.com

More from Fluid & Gas Flow Equipment