Single-Key Touch Controllers empower portable devices.
Press Release Summary: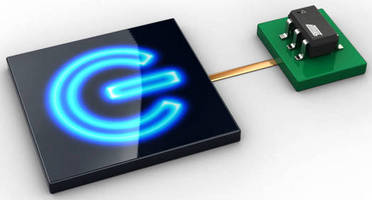 Consuming less than 17 µA, AT42QT101X series is based QTouch® capacitive touch technology for buttons, wheels, and sliders and intended for use in portable devices such as power buttons, hearing devices, and proximity sensors. When key touch is detected, devices will temporarily switch to 12.6 ms fast response mode, allowing additional touches to be detected quickly. ICs automatically calibrate when powered up and stay calibrated even with moisture/contaminant build-up on touch surface.
---
Original Press Release:

Atmel Targets Portable Devices with Low-Power, Flexible Single-Key Capacitive Touch Controllers



New Family offers faster response time, low current consumption and low noise to enable next-generation designs

SAN JOSE, Calif. -- Atmel© Corporation (NASDAQ:ATML), a leader in microcontroller and touch solutions, today announced a new family of single-key touch controllers for the portable device market. This new family offers designers power consumption below 17uA for next-generation portable touch devices, including power buttons, hearing devices, consumer toys and proximity sensors. The embedded low-power features in Atmel's new family of single-key touch controllers also enable longer battery life for these portable devices.

Based on Atmel's patented QTouch® capacitive touch technology for buttons, wheels and sliders, the new family of single-key capacitive touch controllers offers a better response time. This feature allows mobile touch devices to 'wake-up' faster than products currently on the market today. When a key touch is detected, these devices will temporarily switch to a 12.6 ms fast response mode, allowing additional touches to be detected quickly.

"As next-generation mobile touch devices demand faster, smaller and lower system cost designs, these new touch controllers address every aspect of a designer's needs. By offering a faster wake time, these new products will also address devices in the cost-sensitive, high-volume markets," said Jon Kiachian, sr. director of touch products at Atmel Corporation. "This introduction further demonstrates how Atmel leverages its microcontroller expertise for the touch technology markets."

Similar to all Atmel touch technology devices, the AT42QT101X family uses spread spectrum modulation to ensure excellent electromagnetic compatibility (EMC). The integrated circuits (ICs) automatically calibrate when powered up. The device will also stay calibrated, even with moisture build-up or other contaminants on the touch surface. With Atmel's touch controllers, the touch surface remains reliable throughout its lifetime.

About Atmel's AT42QT101X Family

Atmel's AT42QT101X family of flexible single-channel capacitive touch key ICs include the AT42QT1010, AT42QT1011 and AT42QT1012. Atmel's AT42QT1010 includes a timer to reset a 'stuck key' condition after 60 seconds, while the AT42QT1011 indicates a touch condition while the sensor is 'in detect' mode but does not have a timeout. Atmel's AT42QT1012 includes a touch-on/touch-off or "toggle" key and also includes a configurable power down timer, preventing devices from inadvertently being left on.

The key sensitivity on all devices can be configured for different panel thickness and materials. Electrodes can be made from any conductive material including transparent ITO (Indium Tin Oxide). There are few constraints on the key shape or size, allowing the user a great level of flexibility in the industrial design. The IC can also be configured for use as a proximity sensor, allowing a nearby hand or object to be detected. This functionality is typically used in toys to illuminate "hidden-until-lit" keys when a hand or a finger approaches a consumer appliance.

Availability, Pricing and Photo

Atmel's AT42QT101X devices are available now. Prices start at $0.20 for high-volume pricing. Evaluation kits are also available now.

To download a high-resolution photo of the single-key capacitive touch controller, please click the following link: http://www.atmel.com/pressroom/photos/single-touch.jpg.

Information

For more information about Atmel's touch sense products, please visit http://www.atmel.com/products/touch.

About Atmel

Atmel is a worldwide leader in the design and manufacture of microcontrollers, advanced logic, mixed-signal, nonvolatile memory and radio frequency (RF) components. Leveraging one of the industry's broadest intellectual property (IP) technology portfolios, Atmel is able to provide the electronics industry with complete system solutions focused on consumer, industrial, security, communications, computing and automotive markets.

© 2009 Atmel Corporation. All Rights Reserved. Atmel®, Atmel logo and combinations thereof, AVR®, QTouch®, and others, are registered trademarks, or trademarks of Atmel Corporation or its subsidiaries. Other terms and product names may be trademarks of others.

Press Contacts
Agnes Toan, PR Manager
Tel: (+1) 408 487-2963, Email: [email protected]