Single Flat/Dual Lens Mirrors suit any vehicle application.
Press Release Summary: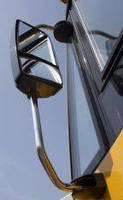 With design that facilitates OEM installation as well as aftermarket retrofit, AccuStyle® rear vision mirrors can be mounted on traditional arm or loop (two point mount) or be used as single point overhang or upright mount. Mirror head can be mounted on mirror arms that are ¾-1 1/8 in. OD tube via removable clamp cover on back of mirror shell. While suited for use in various vehicles, mirrors can also be used in surveillance, security, and traffic monitoring applications.
---
Original Press Release:

Single Flat or Dual Lenses Mirrors for Any Vehicle Application



Rosco is the nation's leading manufacturer of mirrors for the school bus industry. Rosco provides mirrors for a wide range of commercial vehicles, including trucks, buses, vans, specialty vehicles, military vehicles, industrial equipment and more. Rosco opens expanded vehicle possibilities and advantages with it's most versatile AccuStyle OEM mirrors.

The AccuStyle® mirror now offers vehicle & transit versatility with a uniquely stylized mirror with application for nearly every industry. The AccuStyle® mirror head can be mounted on mirror arms which are 3/4" O.D. tube up through 1-1/8" O.D. tube via the removable clamp cover on the back of the mirror shell - making OEM installation as well as aftermarket retrofit a breeze. The AccuStyle® mirror can be mounted on a traditional arm or "loop" (two point mount), or can be a single point overhang or upright mount. Finishes are available in black and chrome. These rear vision mirrors for after market & automotive, vehicular, school bus or truck use; they can also be applied to surveillance, security & all traffic monitoring applications.

Rosco provides equipment to manufacturers in the school bus, transit and shuttle bus, motor coach, truck and van, recreational vehicle, specialty vehicle, military, and materials handling vehicle markets. The company is the largest supplier of mirror and integrated vision systems to the North American school bus market, selling to all major OEMs and parts distributors including International/IC Corp., Freightliner/Thomas, and Blue Bird. Additional applications for Rosco product include Military, Specialty and Emergency Vehicle, Truck, Van, RV, and just about any specialized or purpose built vehicle. Rosco sells to OEMs such as AM General, Daimler Chrysler Family Companies, Forest River Family Companies, General Dynamics, Morgan Olson, Oshkosh Family Companies, Thor Family Companies, Toyota, Utilimaster, Volvo Family Companies, and many more. Please call for application assistance at 800 227-2095 or visit www.roscomirrors.com

More from Optics & Photonics