Single-Ended M12 Profinet Connectors feature overmolded cable.
Press Release Summary: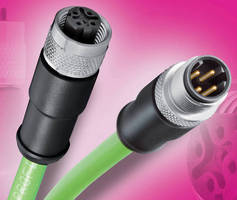 Adopting standard Profinet design, Series 876 D-Coded connectors are available in male or female versions with 4 gold-plated contacts and in 2, 5, and 10 m lengths. Each connector is molded to shielded polyurethane (PUR) cable, which consists of 22 AWG wires; other cable types and lengths are available upon request. Rated current is 4 A per contact, and total rated voltage is 250 V. When fully mated, connection offers IP67 protection against liquids and debris.
---
Original Press Release:

Binder-USA Expands M12 Profinet Connectors with an Overmolded Cable



Binder-USA has expanded its line of M12 connectors with a single-ended overmolded cable connector. The Series 876 D-Coded connectors have adapted the standard Profinet design, which is commonly used in industrial environments for automation networking applications.

The molded connectors are available in male or female versions with 4 gold-plated contacts and are available in 2-, 5- and 10-meter lengths. Each connector is molded to a shielded polyurethane (PUR) cable, which consists of 22 AWG wires. Other cable types and lengths are available upon request. The connectors have a rated current of 4 A per contact and a total rated voltage of 250 V. When fully mated the connection is IP 67 rated to ensure protection from liquids and debris.

For a complete connecting solution, Binder-USA offers front and rear mounting receptacles as part of the M12 D-coded product range.

For more information on Binder's connectors, visit www.binder-usa.com or contact Binder-USA, 3903 Calle Tecate, Camarillo, CA 93012, e-mail: sales@binder-usa.com, telephone: 1-805-437-9925, fax: 805-504-9656.

About Binder-USA

Binder-USA, LP is a subsidiary of Franz Binder GmbH & Co., a German-based designer and manufacturer of circular connectors and cordsets for use in industrial environments including factory automation, process control, and medical technology applications.

For more information on this press release:
Visit: www.binder-usa.com/press/?p=350

Contact Sales
Tel: 805.437.9925
Fax: 805.383.1150
Email: sales@binder-usa.com

More from Construction Equipment and Supplies