Single-Edged Precision Boring Tool comes in lightweight design.
Press Release Summary: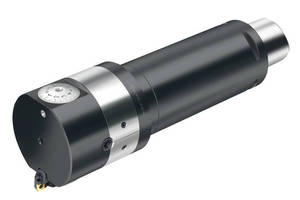 LWS (Light Weight Solution) version of Walter PrecisionMEDIUM B4031.C weighs 3.2 kg and features backlash-free Walter Capto™ modular toolholding interface. Diameters range from 90–110 mm and 110–153 mm. In addition to facilitating handling in assembly and setting area, design accommodates application where tool magazine can handle limited weight. Reduced weight also helps protect machine and spindle during acceleration and deceleration.
---
Original Press Release:

Walter Introduces a Light Weight Precision Boring Solution



The Walter PrecisionMEDIUM B4031.C boring tool with the Walter Capto™ modular toolholding interface eases handling, quickens toolchange and enhances precision.



Waukesha, WI – Walter has introduced a reduced weight version of its Walter PrecisionMEDIUM B4031.C with the Walter Capto™ modular toolholding interface. This single-edged precision boring tool is now available weighing 30-50% less than the previous version. While maintaining the same dimensions along with the same properties and performance levels, the new LWS (Light Weight Solution) version weighs just 3.2 kg as opposed to 7.2 kg. Walter is adding the LWS design into its product range with diameters from 90-110 mm and 110 to 153 mm.



For the user this offers several advantages, beginning with easier handling for personnel in the assembly and setting area. Also, these light weight tools are particularly beneficial if a machine's tool magazine can accommodate limited weight. The design protects the machine and spindle as there is less weight during acceleration and deceleration.



Likewise, the moment of force is reduced for the same projection lengths, making it easier to change the tool. Due to its special construction, the tool is also more effective at reducing vibration. The B4031.C's light weight Walter Capto™ interface, with its high clamping force and even force distribution, is completely backlash-free. In addition, it significantly enhances the new tool's versatility. That's because many of today's machine tools include a Capto interface as standard because Capto is a universal interface, suitable for turning, drilling, counterboring and precision boring, as well as for milling, in both rotating and static modes. With this unique interface system, all machining operations can be performed on lathes, machining centers and turnmill centers.



Walter, a global leader in the metalworking industry with over 90 years of experience in precision cutting tools for milling, drilling, turning, boring and specialized tools, helps customers improve process reliability and increase productivity. With Regional Headquarters in Waukesha, WI, Walter markets its competence brands Walter Valenite, Walter Titex, Walter Prototyp and Walter Multiply through a strong network of distributors and field engineers across subsidiaries in the USA, Canada, Mexico, Brazil and Argentina.



http://www.walter-tools.com/us

Related