Single-Drum Vibratory Rollers offer enhanced gradeability.
Press Release Summary: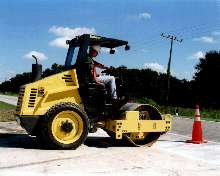 Series BW124-3 consists of 7,275 lb smooth drum Model BW124DH-3 and 7,384 lb padfoot drum Model BW124PDH-3. They feature dual travel pumps, no-spin differential, and 50 hp, Deutz air/oil-cooled diesel engine. Rollers offer dual amplitudes and operating frequency of 2,460 vpm to achieve 19,125 lb of centrifugal force. Oscillating/articulating center joint delivers ±12° oscillation. Maximum working speed is 5.6 mph for both models.
---
Original Press Release:
BOMAG Focuses on Increased Gradeability and Tractive Effort with New BW124-3 Series Single-Drum Rollers

KEWANEE, Ill. - Combining dual travel pumps, no-spin differential and standard drum drive, BOMAG's new BW124-3 single-drum vibratory roller series offers enhanced tractive effort
and gradeability.

The BW124-3 series includes the 7,275-pound BW124DH-3, a smooth drum model ideal for working on granular and mixed soil applications, and the 7,385-pound BW124PDH-3, a padfoot drum unit that delivers maximum productivity on cohesive and semi-cohesive materials.

Featuring 50-horsepower, fuel-efficient Deutz air/oil-cooled diesel engines, the BW124-3 series offers dual amplitudes and an optimized operating frequency of 2,460 vpm (vibrations per
minute) to achieve 19,125 pounds of centrifugal force for maximum compaction on a wide range of materials. Maximum working speed for both units is 5.6 mph.

The ergonomically designed operator's compartment provides the BW124-3 series with excellent all-around visibility and a clear layout of controls for simple handling. Floor mounted travel
pedals control speed and directional changes. The vibration-isolated operator platforms yield maximum comfort.

To ensure full drum contact, even on irregular terrain, the BW124-3 series features a maintenance-free, bolt-on oscillating/articulating center joint that delivers ±12-degree oscillation. A generous steering angle of ±35 degrees provides high maneuverability on tight job sites.

Maintenance checks and service are made simple with easy-access, two-opening position engine hoods. Audible and visual warning indicators for engine oil pressure and temperature, air filter vacuum, brake control and hydraulic charge control helps to simplify troubleshooting and avoid extensive machine damage. Additionally, pressure test ports are built directly into the hydraulic system for quick and simple analysis of all critical pressures.

Other standard features on the BW124-3 series include ROPS/FOPS with seat belt, lockable hood and control panel, back-up alarm, SAHR (Spring-Applied, Hydraulically Released) brakes, front/rear working lights and an adjustable operator's seat with arm rests. Two leveling blades (with and without angling mechanism) are available for the BW124PDH-3 only. The angling leveling blade option comes with a joystick control for simplified operation.

For more information on the BW124-3 single-drum vibratory roller series or the complete BOMAG heavy product line, including single-drum vibratory rollers, tandem vibratory rollers, steel wheel rollers, pneumatic-tire rollers, recyclers/stabilizers and refuse compactors, contact Compaction America, Inc., 2000 Kentville Road, Kewanee, IL 61443, call 309-853-3571, fax 309-852-0350, e-mail info.bomag@compactionamerica.spx.com or visit the company's Web site at www.bomag-americas.com.
Related