Single-Component Gas Analyzer meets needs of ASU operators.
Press Release Summary: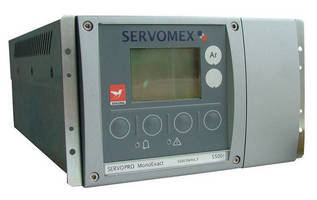 SERVOPRO MonoExact employs TruRef Thermal Conductivity technology, which offers accurate measurements for Argon and Nitrogen by eliminating distorting effects of changing thermal mass and thermal convection. Technology also co-locates reference and measure elements under isothermal conditions in sample gas, eliminating effects of changing sample conditions. Communication options include 4-20 mA, Profibus and Modbus communications via RS485, and ethernet connectivity.
---
Original Press Release:

SERVOPRO MonoExact Gas Analyser Delivers Breakthrough TCD Technology in a Single Component Unit



Crowborough, UK - The new SERVOPRO MonoExact gas analyser brings Servomex's acclaimed TruRef Thermal Conductivity (TCD) technology to ASU operators as a compact, single component analyser.

Servomex's TruRef TCD technology offers exceptionally accurate measurements for Argon and Nitrogen by eliminating the distorting effects of changing thermal mass and thermal convection experienced by traditional katharometer technologies. Achieved by co-locating the reference and measure elements under isothermal conditions in the sample gas to eliminate the effects of changing sample conditions, TruRef technology also avoids the measurement inaccuracies inherent in katharometer technologies which require a sealed reference cell or flowing reference gas - meaning the MonoExact offers ASU operators truly industry-leading measurements for drift accuracy, linearity and repeatability. In addition, cost-of-ownership is optimised by longer calibration intervals and avoiding the requirement for a reference gas.

The single-measurement focus of the MonoExact meets the requirements of ASU operators who prefer to keep their analyser measurements separate by using independent analysers, rather than using a single unit multigas analyser. The compact half-19" rack foot print enables two MonoExact analysers to be to be installed within a single 19" rack space, maximising the use of valuable space.

The MonoExact measurement offers stable and robust performance, with control optimised via a full range of communication options that includes 4-20Ma output, Profibus and Modbus communications via RS485, and ethernet connectivity. An expanded range of TCD gas measurements to extend the MonoExact's capabilities will be released for sale during 2012.

"By combining TruReF TCD with extensive communications options in a compact unit, the MonoExact is a breakthrough measurement for ASU operators who rely on individual measurements for their processes," says Charles Segar, Product Business Manager, Servomex.

"Complemented by the SERVOPRO MultiExact multigas analyser for multiple gas measurements, TruRef TCD delivers ASU operators a definitive and measurable step up in performance for their processes."

For more information about the SERVOPRO MultiExact, contact the European Business Centre (+31 (0) 79 330 1581 / 00800 737866390 Toll free in France, Holland, Germany, Belgium and the UK) Americas Business Center (+1 281 295 5800) or Asia Pacific Business Centre (+86 (0)21 6489 7570).

About Servomex Group Ltd
As the world expert in gas analysis, Servomex has established itself as the leading provider of reliable, accurate and stable gas measurement solutions to industries across the globe.

An acknowledged innovator in gas analysis technologies for more than 50 years, Servomex is the originator of and world leader in paramagnetic sensing technology and has an exceptional reputation in the development of zirconia, laser (TDL), gas chromatography, FID, coulometric, photometric and thick film technologies. With a leading edge in R&D and manufacturing maintained by two Technical Centres based in Crowborough, UK and Boston, Massachusetts, the result is high-performance, cost-effective gas analysis, delivered through a portfolio of dependable products ranging from portable gas analysers to complex process solutions.

Servomex has extensive experience of working with multi-national companies across a range of industries including hydrocarbon processing, industrial gas and OEM markets, ensuring our knowledge and expertise closely matches the requirements of our customers.

Servomex's commitment to providing a complete industry solution to gas analysis extends across our business, with our Hummingbird Sensing Technology brand delivering our sensor technology to OEM partners and the recently-acquired Delta F Corporation extending our product offering through high quality oxygen and moisture analysis technologies.

Servomex is committed to providing excellence in customer service, offering full sales and service support through global business centres based in Houston, Texas; Zoetermeer, Netherlands; Shanghai, China; São Paulo, Brazil; and Mumbai, India. By combining global expertise with local support, Servomex delivers a complete package of product and service that ensures customers improve output quality, maintain plant and process safety and meet legislative requirements.

Servomex is part of Spectris plc, a leading supplier of instrumentation and controls to global markets.

For further information
Contact: Chris Lawrenson at Coda Communications
E-mail: chris@codacomms.co.uk / Tel: +44 (0)1202 669694/ Cell: +44 (0)7590 036435

More from Electrical Equipment & Systems