Single Chip USB UART upgrades RS232 systems.
Press Release Summary: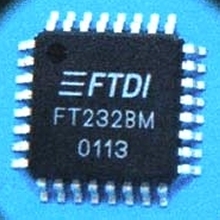 FT232BM transfers serial data over Universal Serial Bus. It can be used to upgrade older RS232 serial designs to USB with minimal development and cost. It incorporates reset and clock circuits, 5V/3.3V UART output voltage, data transfer rates of up to 920 k baud for RS232, and 3,000 k baud for RS422/RS485. Royalty free drivers are available.
---
Original Press Release:

FT232BM - improved USB / RS232 UART


Fairport, New York. FT232BM is a new version of the very popular and cost-effective FT8U232AM, a single chip USB UART solution for transferring serial data over the Universal Serial Bus, requiring no software expertise. The new FT232BM reduces the external component count to further reduce manufacturing costs. This second-generation chip incorporates reset and clock circuits, and 5V/3.3V UART output voltage selection. These devices essentially maintain pin compatibility with the original, making it easy to upgrade or cost reduce existing designs.

The exciting thing about FT232BM discovered by manufacturers of cellphone cradles, legacy serial instruments and converter cables, is that this i.c. can be used to upgrade older serial designs to USB with absolutely minimal development and cost. Many manufacturers have RS232-based peripherals and wished there was a way to convert those products as painlessly as possible to USB. The traditional approach was to re-design the product using a dedicated USB microcontroller. This usually means extensive firmware development, as well as having to source or develop specific USB drivers for Windows '98/xP/NT/2000, Linux and Mac OS-8/9/X.

Contrast this with FT232BM - it's easy! How easy? Just replace the old RS232 level converter i.c. inside the product with our FT232BM and use our royalty-free drivers, and the job is more or less done! With data transfer rates of up to 920k baud (RS232) and 3,000k baud (RS422/RS485) the 32-pin QFP FT232BM combines ultra high performance with USB's ease of use.

FT232BM was designed in Silicon Glen in Scotland by FTDI, who have lived and breathed USB since its inception. Application schematics can be found at www.ftdichip.com. FT232BM will be available in addition to the previous FT8U232AM in production quantities from Sept. 2002 from $3.50 (1000) from Saelig Co. Inc. (585-425-3753; -3835fax; saelig@aol.com; www.saelig.com).

Further details: Alan Lowne 585 425-3753; fax -3835
Saelig Company Inc. 1 Cabernet Circle, Fairport NY 14450
Or see www.saelig.com/news.htm

More from Agricultural & Farming Products