Single-Chip SoC Device is designed for automotive use.
Press Release Summary: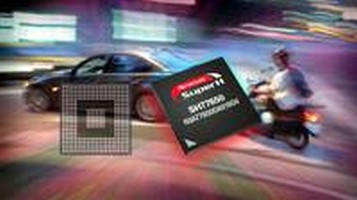 Optimized for in-vehicle image-recognition processing applications, Model SH77650 enables production of vehicle information terminals, particularly next-generation car navigation systems and peripheral devices that can help increase driving safety. It has SH-4A CPU core that achieves 540 MIPS when operating at 300 MHz, while on-chip floating-point processing unit supports both single- and double-precision calculations and delivers 2.1 GFLOPS in single-precision mode at that speed.
---
Original Press Release:

Renesas Technology Introduces Specialized SoC Device Optimized for In-Vehicle Image-Recognition Processing Applications



The single-chip SH77650 SoC device will help boost the widespread adoption of important vehicle safety features.

SAN JOSE, Calif. - July 28, 2008 - Renesas Technology America, Inc. today announced the SH77650, a single-chip SoC product optimized for image-recognition processing functions. The new device enables the production of more affordable vehicle information terminals, particularly the next-generation car navigation systems and peripheral devices that can help increase driving safety. In addition to automotive applications, the SH77650 is also suitable for security equipment for business and industrial applications.

The 300MHz SH77650 provides the same image-recognition processing functions as Renesas' existing 600MHz SH7774 high-performance SoC product for car navigation systems. The new chip is designed to deliver an excellent combination of cost, functionality and performance in driving-assist systems that perform functions such as white-line detection (lane-division recognition).

The device's intellectual property (IP) from Hitachi, Ltd., encompasses an image-recognition processing accelerator - specialized hardware that performs the computations necessary to identify road conditions via image data captured by a camera or similar device. The hardware accelerator can run multiple external image recognition programs such as roadway lane recognition or the detection and tracking of the cars and trucks ahead simultaneously and in real time. This capability makes it possible to realize sophisticated safety functions in a moving vehicle, such as adaptive cruise control. To facilitate the development of such applications, Renesas offers an image-recognition library containing approximately 200 functions. The new product also allows the reuse of existing engineering resources to save cost, including application software that customers had originally developed for the previous-generation product.

When operating at 300MHz, the SH-4A CPU core in the SH77650 achieves impressive processing performance: 540 MIPS (million instructions per second). Moreover, the SoC device's on-chip floating-point processing unit (FPU), which supports both single- and double-precision calculations, delivers 2.1 GFLOPS (giga floating-point operations per second) in single-precision mode at that speed. These high levels of performance enable the design of powerful image-recognition processing systems.

Besides the image-recognition processing accelerator, the SH77650 incorporates a variety of other on-chip peripherals required for automotive image-recognition applications. They include not only the requisite video input interface and display functions, but also a dedicated DMA controller, timers, a serial communication interface, and a CAN interface for in-vehicle LANs. An on-chip bus arbitrator supports three access priority levels so internal functions can access external memory efficiently. There is also a 32-bit dedicated external bus that can connect to high-speed DDR1-SDRAM (Double Data Rate 1 - Synchronous DRAM), and a 32-bit expansion bus that enables connections to external flash memory or SRAM. These on-chip peripheral functions and features allow this one chip to handle all of the main capabilities of an image recognition system. Thus, system engineers can produce designs that have fewer parts and cost less.

Development tools for the SH77650 SoC device include the previously mentioned image-recognition library, an emulator, and a reference platform. The E10A-USB emulator connects to a host PC via a USB bus, providing a real-time on-chip debugging capability at the SH77650's 300MHz maximum operating frequency. The reference platform includes in-vehicle information-system oriented peripheral circuits and can be used as both a basic user system and a product verification environment. The platform is available now.

Price and availability

Product Name SH77650 (R8A77650DA01BPV)
Operating Frequency 300MHz
Package 376-pin BGA
Sample Price/Availability
$51/ NOW

About Renesas Technology Corp.
Renesas Technology Corp. is one of the world's leading semiconductor system solutions providers for mobile, automotive and PC/AV (Audio Visual) markets and the world's No.1 supplier of microcontrollers. It is also a leading provider of LCD Driver ICs, Smart Card microcontrollers, RF-ICs, High Power Amplifiers, Mixed Signal ICs, System-on-Chip (SoC), System-in-Package (SiP) and more. Established in 2003 as a joint venture between Hitachi, Ltd. (TSE:6501, NYSE:HIT) and Mitsubishi Electric Corporation (TSE:6503), Renesas Technology achieved consolidated revenue of 953billion JPY in FY2006 (end of March 2007). Renesas Technology is based in Tokyo, Japan and has a global network of manufacturing, design and sales operations in around 20 countries with about 26,500 employees worldwide. For further information, please visit www.renesas.com

More from Electrical Equipment & Systems