Single-Chip Motor Controller allows full digital control.
Press Release Summary: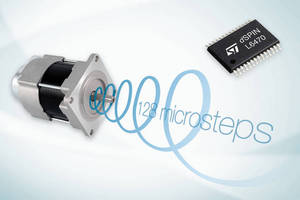 Digital SPIN (dSPIN(TM)) monolithic motor-control IC combines digital control, analog measurement, and power electronic circuitry for controlling stepper motors using ST's BCD fabrication process. Voltage-mode control algorithm smoothes motor movement and feeds motor phases with accurate sinusoidal waveform, resulting in position resolution of 128 microsteps/step. Over-temperature, low bus voltage, and non-dissipative over-current protection and motor stall detection are included.
---
Original Press Release:

STMicroelectronics Innovates True Single-Chip Motor Controller, Simplifying Design of Motion-Enhanced Applications



Advanced proprietary fabrication process supporting digital, analog and power integration accelerates delivery of smaller, lower-cost designs achieving industry-leading performance

Geneva - High-performing motor drives for equipment such as security cameras, cash dispensers, ticketing machines, stage-lighting, printers and vending machines can now be realized more quickly, at lower cost and higher performance using a complete motor-control system on a chip perfected by STMicroelectronics (NYSE: STM), a world leader in intelligent power ICs.

The 'digital SPIN', or dSPIN(TM), combines all the necessary digital control, analog measurement, and power electronic circuitry for controlling stepper motors using ST's advanced BCD fabrication process. It is the first device in ST's new dSPIN family of monolithic motor-control ICs that will bypass specialized hardware and software design tasks, reduce component count and pc-board area, and speed up time to market. Implementing the motor-control calculations in hardware simplifies software design by requiring only acceleration, deceleration, speed and target position commands from the application microcontroller. This frees microcontroller resources to support other differentiating features.

In addition to increasing integration over competing solutions, the dSPIN ensures extremely smooth movement of the motor by using an innovative voltage-mode control algorithm. The voltage-mode approach allows full digital control, feeding the motor phases with an accurate sinusoidal waveform and resulting in position resolution of 128 microsteps per step. Other advantages include reduced resonances, mechanical noise and low-speed vibration, as well as reduced speed and torque ripple at low speeds.

"The dSPIN, with its integrated digital control core, extends the ST PowerSPINT product platform and delivers superior performance and value at the system level," said Pietro Menniti, Group Vice-President and General Manager of the Industrial and Power Conversion Division, STMicroelectronics. "Nowadays motor-controlled applications require very high performance in term of resolution, motion smoothness and system robustness. The high steps resolution, the digital motion management, the full set of protections and a dual H-bridge power switch array connecting directly to motor phases, enable the dSPIN to deliver a competitive edge in applications requiring one or more motors up to 100W."

ST has taken advantage of analog integration using its advanced BCD process to implement rich protection features on the chip. These include over-temperature protection, low bus voltage protection, non-dissipative over-current protection and motor stall detection, thereby simplifying the design of fully protected solutions for today's most demanding applications.

Major features of dSPIN

Extends ST's PowerSPIN family of motor-control solutions

Dual low RDS(ON) (0.28 Ohms)

DMOS full bridge Standard SPI control interface

7A peak output current (3 Arms)

8V to 45V operating voltage range

Programmable speed profile and positioning

Non-dissipative current control

Low quiescent and standby currents

dSPIN (part number L6470) is now available for full production in the thermally enhanced HTSSOP28 package (L6470H), priced at $4.50 in quantities of 1000, and will be available in PowerSO36 packages within the first half of 2011. Alternative pricing options are available for large order quantities.

About STMicroelectronics

STMicroelectronics is a global leader serving customers across the spectrum of electronics applications with innovative semiconductor solutions. ST aims to be the undisputed leader in multimedia convergence and power applications leveraging its vast array of technologies, design expertise and combination of intellectual property portfolio, strategic partnerships and manufacturing strength. In 2009, the Company's net revenues were $8.51 billion. Further information on ST can be found at www.st.com.

More from Chemicals & Gases