Miscellaneous Cleaning Equipment
Single-Chamber Cleaning System automates cleaning process.
Press Release Summary: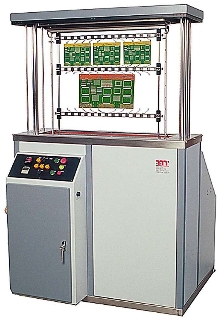 Closed-loop regenerative system, X-40F, provides wash, rinse, and dry cycle automation in one chamber with minimized dragout and cross-contamination. It features ion bed filtration/regeneration system and is capable of fully automated operation using various chemistries. Along with counter-rotating spray wand technology, system incorporates solvent recovery systems and uses heated cleaning chemistry in conjunction with chilled IPA rinse.
---
Original Press Release:

AAT Combines Best of X, Mega Cleaning Systems for New Hi-rel Cleaning Process and System


Austin, Texas, USA - Austin American Technology (AAT) has combined the best capabilities of two successful cleaning systems - the popular X-Series stencil cleaning system and the high-precision Mega(TM) series cleaners - into a single high-capacity, single-chamber closed-loop regenerative system, the X-40F. The X-40F was developed for a Hi-rel military waterless application, cleaning 35-lb. backplanes 32" x 18". The application needed the high-precision cleaning chemistry and technology provided by the Mega(TM) system, but needed the cleaning chamber capacity of the X-series as well as its material handling capabilities. The result, according to Jon Phelps, AAT's Engineering Manager, is a hybrid system that combines the best of both machines into an essentially new process whereby the single processing chamber minimizes the unit's footprint, while specialized technologies enable wash, rinse, and dry cycle automation in one chamber with minimized dragout or cross-contamination, plus greater process efficiency and reduced costs due to the use of a new ion bed filtration/regeneration system.

Austin American Technology's X-Series cleaners fully automated systems typically used for stencil cleaning. They do not require transferring between wash, rinse, and dry, and are capable of fully automated operation using a wide range of chemistries. They offer a large processing chamber, closed-loop capability, plus highly-effective patented counter-rotating spray wand technology, and the ability to handle large product dimensions and weight.

The Mega(TM) Series is a revolutionary closed-loop, solvent regenerative, electronic assembly and parts cleaning system with quantitative ion detection and statistical process control capability.

Both systems were combined in many ways, according to Phelps. Although the Mega system uses spray under immersion technology and the X-series does not, it was found that the spray want technology of the X-Series worked excellently with the Mega cleaning chemistries, resulting in clean backplanes that met and exceeded the customer's expectations, these results attributed to the X-Series'patented method of rotational spraying which creates zones of constantly changing force. Innovative solvent recovery systems kept wash and rinse chemistries apart, resulting in only a few mils of solvent per cycle lost to cross-contamination. "This meant far fewer chemistry changeouts, particularly in the rinse cycle, than the customer had expected, or had been required with their previous cleaning arrangement" Phelps adds. "This meant lower operating costs and less waste. In addition, the use of a new type of ion bed that is not affected by the cleaning chemistry meant lower costs on that end of the process as well, without sacrificing cleaning quality or solution integrity."

The X-40F uses the Mega's proprietary cleaning chemistry (heated) in conjunction with a chilled IPA rinse, and provides cleanliness measurement and solution purity indicators and alarms, SPC capability and data logging, and more. An ultrasonics assist is available as an option for extremely tough cleaning requirements.

Austin American Technology is the recognized global leader in cleaning technology for industrial cleaning applications ranging from electronics manufacturing to specialized parts cleaning. For more information about AAT cleaners, chemistries, and other products, visit www.aat-corp.com, or contact the company at 12201 Technology Blvd. Austin, Texas 78727 USA, tel. (512)335-6400.

More from Software