Single-Cell RNA Sequencing in a Fast and Inexpensive Format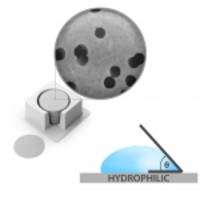 Sterlitech Corporation's unique track-etch polycarbonate membrane filters are helping MIT Researchers pioneer a faster and less expensive means of identifying key genes turned on in response to infection or diseases, as featured in the February 13 issue of Nature Methods from the Shalek and Love Labs at Massachusetts Institute of Technology.
Most cells in the human body only express a tiny portion of all genes coded in their DNA. Those genes are copied into messenger RNA, also known as RNA transcripts, which direct the cells to build specific proteins. Each cell's gene expression profile (all genes turned "on" at any given moment) varies depending on its function or response to outside factors. Sequencing the RNA from individual cells of a blood or tissue sample offers a way to identify cells based on patterns of gene expression, allowing researchers to study what cells are doing in response to infection or treatment. But how can so many tiny cells be sorted, tracked, and sequenced in an easy manner?
One of the main hurdles to overcome in identifying single cell transcripts in a large population of cells (think of how many cells are in that blood draw from your doctor's office), is in keeping track of which mRNA comes from which cell ? be it a B-cell, T-cell, macrophage, or more! Early on, this process relied on laborious cell sorting (flow cytometry/FACS), but FACS uses expensive equipment, is not portable, and requires a tremendous amount of time to yield only a few small populations of cells.
The lead author at the Shalek Lab at MIT, Todd Gierahn, used Sterlitech's 10nm pore size, 62mm x 22mm polycarbonate membrane filters to develop a chitosan-functionalized PDMS array (see the 3 glass slides in the image above above). The researchers first prepared the polycarbonate membranes by plasma treatment (as described via the protocol at the Shalek Lab) and then used a process to isolate single cell suspensions from complex tissue. The cells released from the tissue are then mixed with barcoded mRNA-capture beads previously placed into the PDMS array. The array is then sealed using the prepared Sterlitech polycarbonate membrane that, upon addition of a chemical lysis buffer, confines cellular mRNAs within wells while allowing efficient buffer exchange.
Love's lab is now using this approach to analyze immune cells from people with food allergies, which could help researchers determine why some people are more likely to respond well to therapies designed to treat their allergies. "There are still a lot of unknowns in chronic diseases, and these types of tools help you uncover new insights," Love says.
To order these, or custom polycarbonate membrane filters, or discuss your application with a Microfiltration Expert, contact Sterlitech at 1-877-544-4420 or sales@sterlitech.com.
Sterlitech Corp.
22027 70th Ave. S.
Kent, WA 98032-1911
Phone: 253-437-0844
Url: http://www.sterlitech.com
Email: sales@sterlitech.com
More from Cleaning Products & Equipment