Single Board Computers include embedded Red Hat Linux.
Press Release Summary: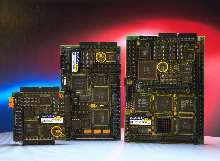 Single Board Computers, offered in variety of sizes and capabilities, range from 3.6 x 3.8 in. PC/104 bus 486DX to 5.75 x 8.0 in. EBX-compatible Pentium III with integrated video and Ethernet controllers. Units include multiple data storage choices, digital and analog I/O support, and expansion options. Embedded Linux provides solution for applications in heavy manufacturing, COTS/military, communications, transportation, networking, and machine control.
---
Original Press Release:

WinSystems Embeds Red Hat Linux on 10 of its small, industrial SBCs


October 29, 2003 Arlington, Texas- WinSystems announces standard Red Hat Linux embedded on its PC/104, EBX, and STD Bus single board computers (SBCs). Linux, a powerful, robust, low-cost and widely accepted operating system, is well suited to extremely small, embedded applications. Integrated with WinSystems' rugged x86-based products, it provides a natural solution for demanding applications in heavy manufacturing, COTS/military, communications, transportation, pipeline, networking, and machine control.

"We provide a variety of hardware options for system designers to get Linux-based systems to market quickly," said Robert A. Burckle, Vice-President of WinSystems. "We have taken a standard Red Hat distribution and boiled it down to the essentials required for a small, royalty-free embedded operating system for use on our industrial-grade SBCs. Designers can start their project with proven, debugged hardware and just focus on their applications software development."

WinSystems' embedded Linux systems include a web server, Telnet access, FTP, and serial terminal support. Our development kits include board specific drivers, documentation, cables, and a quick start guide. Scripts are also provided to simplify the creation of solid state disk drives using M-Systems' DiskOnChip.

SUPPORTED HARDWARE
WinSystems' SBCs are offered in different sizes and capabilities to meet the needs of the industrial market. From a compact 3.6" x 3.8" PC/104 bus 486DX to a 5.75" x 8.0" EBX-compatible high-performance Pentium III with integrated video and Ethernet controllers, most SBCs operate from -40º to +85ºC. They feature networking capability, multiple data storage choices, plus digital and analog I/O support and expansion options. These units fit space-sensitive and extended temperature requirements where most PC compatibles can't.

The ten Linux-supported SBCs are (1) EBC-C3, a 733MHz Via C3 EBX board; (2) EBC-BX, a 700MHz Pentium III EBX board; (3) EBC-LP, a 266MHz Pentium EBX board; (4) MCM-TX, a 266MHz Pentium STD Bus board; (5) MCM-586, a 133MHz 586DX STD Bus board; (6) PPM-TX, a 266MHz PC/104-Plus module; (7) PPM-520, a 133MHz AMD 520 PC/104-Plus module; (8) PCM-586, a 133MHz 586DX PC/104 module; (9) SAT-520Plus, a 133MHz AMD 520 SBC with PC/104-Plus expansion; and (10) SAT-DX, a 100MHz 486DX4-100 SBC with PC/104 expansion.

PRICING AND AVAILABILITY
Prices of the development kits begin at $300; however, there are no additional Operating System royalties or runtime license fees. SBCs and processor modules start at under $300 in moderate volumes. Delivery is from stock to three weeks. For sales contact information, please list WinSystems' Application Engineering Group at 715 Stadium Drive, Arlington, Texas 76011, (817) 274-7553, e-mail info@winsystems.com and its Website at www.winsystems.com. The data sheet is located on the web at winsystems.com/products/datasheets/els.pdf

More from Fasteners & Hardware