Single Board Computers fit CompactPCI.
Press Release Summary: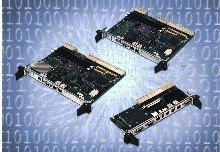 IBC 2800 family of 6U single-slot server blades use dual, low-voltage Intel(R) Pentium(R) III processors with 512 Kbyte cache. IBC 2801 system master and IBC 2802 peripheral master support Ethernet-switched, fabric-backplane architectures, are PICMG 2.16 packet-switched backplane and PICMG 2.9 IPMB compliant, and operate in stand-alone satellite operating modes. Both are suitable for telecommunications, broadcast media, wireless, and network core applications.
---
Original Press Release:

I-Bus/Phoenix Launches The IBC 2801 And 2802


THE INDUSTRY'S FIRST PICMG(R) 2.16 COMPLIANT SBC FAMILY BASED ON DUAL LOW VOLTAGE INTEL(R) PENTIUM(R) III PROCESSORS WITH 512KB CACHE

- Dual Low Voltage Intel Pentium III Processor
- IBC 2801: System Master
- IBC 2802: Peripheral Master
- PICMG 2.16 Packet Switched Backplane Compliant
- PICMG 2.9 IPMB Compliant
Both Products Operate in Stand-alone "Satellite" Operating Modes

San Diego, CA, - I-Bus/Phoenix announces the launch of their new IBC 2800 family of PICMG 2.16 compliant 6U single-slot CompactPCI(R) server blades at the Intel Developer Forum. This leading edge family of common building block Single Board Computers (SBCs) includes the IBC 2801 CompactPCI system master and the IBC 2802 CompactPCI peripheral master. Both are designed to deliver the extreme levels of performance and bandwidth demanded by many of today's networking, telecom, broadcast, wireless and industrial control applications.

The new IBC 2800 series of SBCs deliver symmetric multi-processing performance with state-of-the-art dual Low Voltage Intel(R) Pentium(R) III Processors, each with a hefty 512- kilobyte L2 cache.

"The Low Voltage Intel Pentium III processor will provide an excellent combination of performance and low power for the types of applications that I-Bus/Phoenix will target with their new boards," said Joe Jensen, general manager of the Embedded Intel Architecture Division.

The IBC 2800 board family is fully CPSB PICMG 2.16 compatible to support Ethernet switched fabric backplane architectures. With the additional compatibility of PICMG 2.1 full hot-swap and PICMG 2.9 full IPMI system management, the IBC 2800 board family forms a powerful, scaleable, open architecture computing element in high-reliability and high-availability CompactPCI-based server blade systems from I-Bus/Phoenix.

The IBC 2801 system master board supports two long life cycle, 800MHz Low Voltage Intel Pentium III Processors and up to 2 Gbytes of 266MHz DDR SDRAM in a single slot configuration. On board peripherals include dual 10/100 Ethernet ports, Ultral6O SCSI, C&T 69030 video with 4 Mbytes of memory, dual ATA/100 IDE channels, floppy, PS/2 style keyboard/mouse, RS-232 serial, USB and parallel ports. Additional functionality can be added to the PMC site or via the 6U, 4HP IBC 2703/4 multifunction rear transition/CompactFlash/hard drive carrier board. In all configurations, including the on-board hard drive option, the IBC 2703 or IBC 2704 occupies a single rear I/O slot. The IBC 2801 is fully PICMG 2.9 compliant including an optional Board Management Controller (BMC) for the highest level of system monitoring.

The IBC 2802 peripheral master board also supports two 800MHz Low Voltage Intel Pentium III Processors and up to 2 Gbytes of 266MHz DDR SDRAM in a single slot configuration. On board peripherals for the IBC 2802 include dual 10/100 Ethernet ports, dual Intel(R) 82544GC Gigabit Ethernet ports, C&T 69030 video with 4 Mbytes of memory and a similar set of PC I/O ports to those on the IBC 2801. Additional flexibility is available via a PMC site with rear I/O pin-outs or via the 6U, 4HP IBC 2703/4 multifunction rear transition/CompactFlash/hard drive carrier board. In all configurations, including the on-board hard drive option, the IBC 2703 or IBC 2704 occupies a single rear I/O slot. The IBC 2802 is also fully PICMG 2.9 compliant with the optional BMC.

"Our customers' demand for increasing processor performance coupled with stringent power requirements, conformity to standards and maximum connectivity options has lead to the aggressive design of the IBC 2801 and IBC 2802," stated Gordon Edmonds, Director of Board Development at I-Bus/Phoenix. "These two products reinforce the I-Bus/Phoenix commitment to providing long life cycle, leading edge Intel based designs that fully adhere to the most current industry standards."

The computing core of the IBC 2800 family is powered by the Low Voltage Intel Pentium III microFC-BGA processor family. Current versions of the processor run at 800MHz and boast a L2 cache of 512 Kbytes. The Low Voltage Intel Pentium III Processor allows the IBC 2802 to fit into a single slot and consume significantly less power than desktop processor based SBCs. The third party chipset used is designed to support planned feature upgrades of the IBC 2800 family, allowing for up to 4GB of DDR SDRAM and at least one additional 100BaseT port. With up to 256 Mbytes of CompactFlash and a field re-programmable BIOS in flash memory, boards may be configured without rotating media and still run disk-intensive applications and full operating systems such as Windows Advanced Server and Linux. This SBC family meets and exceeds the demands of high performance server blades in compute-intensive telecommunications, broadcast media, wireless, and network core applications.

The IBC 2800 SBCs will be available as early access units in the second quarter of 2002. Pricing for a typical dual 800MHz processor configuration with 512MB memory in OEM quantities will be $2795.

For more information, please visit our newly re-designed company web site at ibus.com or e-mail us at [email protected].

I-Bus/Phoenix is an ISO-9001 quality-certified world leader in the design, manufacture and support of high performance, industrial-grade power and computer systems. In addition, I-Bus/Phoenix offers customized, partner-oriented services focused on meeting the needs of OEMs including purchasing collaboration, stable supply-chain management, configuration control, and complete system integration and test services. With our "Best of Breed" partners program, we offer complete application ready solutions utilizing techlnologies developed both in-house and by third party industry leaders, delivered in a collaborative environment to provide the OEM customer a level of global support that ensures success, allowing OEMs to focus on their core competencies, rather than on managing a diverse set of independent vendors.

The Intel Developer Forum was held February 25-28 at the Moscone Center in San Francisco, California. For more information, please visit www.intel.com/idf/us/spr2002/index.htm

For further information contact:
Denise Serrano
I-Bus/Phoenix
8888 Balboa Avenue
San Diego, CA 92123
Tel: +1 (858) 503-3077 Fax: +1 (858) 503-3005
Email: [email protected]

United Kingdom:
Cathy Scales, I-Bus/Phoenix,
Tel: +44 (0) 1243 756441
Email: [email protected]

France: Catherine Kervarec, I-Bus/Phoenix,
Tel: +33 (0) 493 004360
Email: [email protected]

Germany: Ulrich Diehl, I-Bus/Phoenix,
Tel: +49 (0) 814 246790
Email: [email protected]