Single Board Computer supports four 2.6 GHz CPUs.
Press Release Summary: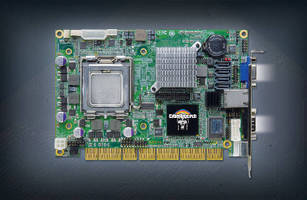 Measuring 7.56 in. long with PISA bus connector, half-length Model CZMD accepts Pentium® 4, Core(TM) 2 Duo, or Core 2 Quad CPUs. It features Intel's Q35 chipset, which supports FSB speeds up to 1,333 MHz, and 3.0 Gb/s SATA ports, which can be configured for RAID 0, 1, 5, or 10 arrays. Other features include 12 MB of Level 2 cache, dual DVI and VGA video, Gigabit Ethernet, RS-232/422/485, PS/2 keyboard and mouse ports, 8 DIO ports, and 4 USB 2.0 ports.
---
Original Press Release:

Speedy Core(TM) 2 Quad CPU Powers Half-Length SBC



If you're tight on space but need the processing power of four 2.6 GHz CPUs, the new CyberResearch(r) CZMD single-board computer was designed for you. The half-length PISA-bus board features a 1333 MHz front-side bus, 12 MB of Level 2 cache, dual DVI and VGA video, Gigabit LAN, and four 3.0 Gb/s SATA ports with RAID.

The half-length CZMD single-board computer from CyberResearch, Inc. is an ideal choice for applications that need cutting-edge Core(tm) 2 Quad-powered computing within a small-footprint PC chassis. With a PISA bus connector, the board measures only 7.56" long - a perfect match for many of the ultracompact CyberResearch(r) MicroBox(tm) chassis.

The single-board computer accepts Pentium(r) 4, Core(tm) 2 Duo, or Core 2 Quad CPUs. It features Intel's Q35 chipset, which supports front-side bus speeds up to 1333 MHz. Four SATA ports can be configured for RAID 0, 1, 5, or 10 arrays.

Other available ports include VGA and DVI video, 7.1 surround sound, Gigabit Ethernet, COM1: and COM2: RS-232/422/485, PS/2 keyboard and mouse ports, 8 DIO ports (4 in/4 out), and 4 USB 2.0 ports.

In addition to CZMD SBCs - now shipping from stock from $1095 - CyberResearch, Inc., also offers rugged industrial PCs and monitors, as well as CPU cards, data acquisition, PC accessories, and motion control. For more info, call Joe Tetreault at 800-341-2525, or visit ww.cyberresearch.com/sbc.

Editor: Please advise us of address corrections or to add the names of others in your organization who should receive future news releases.

CyberResearch(r) is a registered trademark of CyberResearch, Inc. All other trademarks used herein are the property of their respective holders.

To request a free copy of the PC Systems Handbook for Scientists and Engineers, call 1-800-341-2525 or e-mail handbook@cyberresearch.com. Outside of the U.S. please call 203-483-8815 or fax 203-483-9024.

TECHNICAL CONTACT NAME AND JOB TITLE

Mike Mathis, Manager of Applications Engineers

TECH CONTACT'S PHONE NUMBER AND EMAIL ADDRESS

1-800-341-2525 ext 101 sales@cyberresearch.com


PRICE OF PRODUCT 

Catalog#	Price

CZMD P4-30-X	$1,095.00

CZMD C2-30-X	$1,395.00

CZMD CQ-24-X	$1,495.00

CZMD CQ-30-X	$1,695.00


Joseph Tetreault

Customer Relations Manager

CyberResearch, Inc.

(203) 643-5003 ext 127 - Direct

(800) 341-2525 - Toll Free

(203) 643-5001 - Fax

More from Agricultural & Farming Products