Single Board Computer suits size-constrained applications.
Press Release Summary: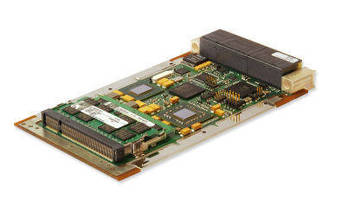 Based on 2.26 GHz SP9300 Core(TM)2 Duo processor with 25 W thermal design power, VPXcel3 SBC341 features 3U form factor, making it suited for size-, weight-, and power-constrained applications. Board includes support for up to 8 GB of DDR3 memory, allowing multiple demanding applications to be run concurrently. Additional features include Gigabit Ethernet, x16 PCI Express(TM) for communication with external graphics processor, 4 USB ports, COM1 and COM2 ports, and 2 SATA interfaces.
---
Original Press Release:

GE Fanuc Intelligent Platforms Announces New Rugged 3U VPX Single Board Computer for Applications That are Size-, Weight- and Power Constrained



Next generation SBC341 offers 13% higher clock speed and 20% lower thermal design power than SBC340

CHARLOTTESVILLE, VA July 23, 2009 GE Fanuc Intelligent Platforms, a unit of GE Enterprise Solutions, today announced the VPXcel3 SBC341 3U VPX rugged single board computer. Taking advantage of the latest Penryn processor technology from Intel® with its 2.26GHz SP9300 Core(TM)2 Duo processor and 25 watts thermal design power (TDP), the SBC341 responds to the growing requirement for maximum throughput with minimum power dissipation.

The SBC341 processor features a 13% higher clock speed and a 20% lower TDP than the SBC340 it supersedes: it also features 50% more on-cache memory and a 50% faster front side bus for even more significant performance gains. For applications that are even more sensitive to power dissipation, the SBC341 is alternatively available with the SL9400 1.86GHz Core(TM)2 Duo processor with a TDP of just 17 watts. As well as being highly attractive to new customers, the SBC341 offers existing SBC340 customers simple, seamless access to a solution that delivers even better performance/watt than its predecessor in demanding applications including sophisticated processing, communications and graphics.

"The SBC341 is evidence of the maturity of our VPX product family as well as our commitment to extending our price/performance leadership in a technology that is redefining what is possible in military embedded computing," said Peter Cavill, General Manager, Military & Aerospace at GE Fanuc Intelligent Platforms. "The 3U VPX form factor is an ideal fit for applications that demand leading edge throughput but that are size-, weight- and power-constrained - and the announcement of the SBC341 further extends the range of 3U VPX solutions we can offer."

The SBC341 is available in five ruggedization levels, enabling it to provide the most cost-effective solution whether it is deployed in a benign development environment or in a harsh operational environment.

Other key features of the SBC341 include support for up to 8 GBytes of DDR3 memory (twice as much as the SBC340), allowing multiple demanding applications to be run concurrently. Extensive I/O flexibility allows complex systems to be built, with Gigabit Ethernet, x16 PCI Express(TM) for high-speed communication with an external graphics processor (x4 PCI Express and x1 PCI Express also provided), four USB ports, COM1 and COM2 ports and two SATA interfaces.

Supported software environments include Windows® XP, XP Embedded, Windows Vista® and Linux®. GE Fanuc also provides support for VxWorks® 6.6 from Wind River Systems.
The SBC341 will also feature in GE Fanuc's MAGIC1 Rugged Display Computer, where it will combine latest generation Core(TM)2 Duo processor technology with an advanced NVIDIA® G73 GPU to deliver a complete, self-contained solution for demanding video and graphics applications in harsh environments.

For more information: www.gefanucembedded.com

About GE Fanuc Intelligent Platforms

GE Fanuc Intelligent Platforms, a joint venture between General Electric Company (NYSE: GE) and FANUC LTD of Japan, is an experienced high-performance technology company and a global provider of hardware, software, services, and expertise in automation and embedded computing. We offer a unique foundation of agile, advanced and ultra-reliable technology that provides customers a sustainable advantage in the industries they serve, including energy, water, consumer packaged goods, government & defense, and telecommunications. GE Fanuc Intelligent Platforms is a worldwide company headquartered in Charlottesville, VA and is part of GE Enterprise Solutions. For more information, visit www.gefanuc.com.

About GE Enterprise Solutions

GE Enterprise Solutions elevates customers' productivity and profitability with integrated solutions using sensors and non-destructive testing; security and life safety technologies; power system protection and control; and plant automation and embedded computing systems. Enterprise Solutions' high-tech, high-growth businesses include Sensing & Inspection Technologies, Security, Digital Energy, and GE Fanuc Intelligent Platforms. The business has 17,000 problem-solving employees in more than 60 countries around the world.

Intel is a registered trademark, and Core is a trademark, of Intel Corporation. VxWorks is a registered trademark of Wind River Systems. Linux is the registered trademark of Linus Torvalds. Windows and Vista are registered trademarks of Microsoft

For more information contact:

Ian McMurray

GE Fanuc Intelligent Platforms

t: +44 (0) 1327 322821

e: ian.mcmurray@gefanuc.com